Tribute Mural in Wynwood for Muhammad Ali's Birthday
Sunday, 01/17/2021-, 12:01 am-11:59 pm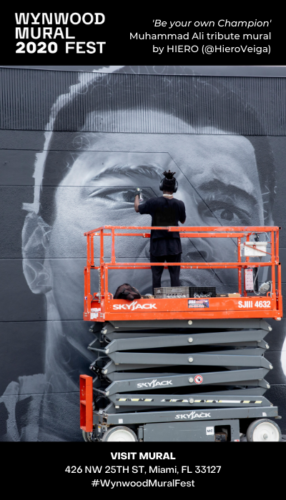 Wynwood Mural Fest
426 NW 25TH ST,
Miami, Florida, 33127
Website
Cost: FREE
Requiring social distancing? NO REPLY
Requiring masks? NO REPLY
Providing hand sanitizer?NO REPLY
Wynwood Mural Fest is honored to unveil a larger than life tribute mural to late Champion fighter and activist Muhammad Ali painted by Artist Hiero Veiga for Ali's Birthday weekend.
Learn more… https://wynwoodmuralfest.com/ali.html
The 40ft wide x 15ft tall artwork is on view at 426 NW 25TH ST, Miami, FL 33127 in Miami's Wynwood Art District. Titled 'Be your own Champion', the mural is one of 10 new project sites featuring the work of more than 60 artists painted in connection with Wynwood Mural Fest 2020, during what would have traditionally been Miami Art Basel Week.
Born January 17, 1942, boxing legend Muhammad Ali had strong ties to Miami. In the 1960's, Ali broke through race boundaries and transformed from a brash boxer to an outspoken political and religious activist while training on South Beach at the 5th Street Gym and living in Miami's Allapattah and Overtown neighborhoods. Today, Ali remains a role model and source of inspiration to members of marginalized communities.
The Ali mural is produced by Stephanie Kassoy (Nekto Collective), with support from Glayson LeRoy (Galera Collective); Lead Camera & Editor, Connor Ray (@thecolorblnd); and B-Camera + Drone Pilot, David Sepa (@davids.visuals).
Project video premiers next month on HYPEBEAST.
ABOUT ARTIST
Known for his portraiture and realistic style, Hiero or Hiero Veiga, is an American contemporary graffiti artist of tremendous work. Hailing from Massachusetts, Hiero grew up writing graffiti in the early 2000's. Not long after, Hiero made the transition from the street into a thriving career as a professional artist. His work has taken him around the world; in the streets and on gallery and private walls.
ABOUT WYNWOOD MURAL FEST 2020
Wynwood Mural Fest celebrates street art, graffiti, and independent culture in Maimi's Wynwood Art District during Miami Art Basel Week and beyond. Amidst an unprecedented year of hurdles, Wynwood Mural Fest organizers, artists, and partners, united in December of 2020 to once again ignite the neighborhood and foster community through large scale urban art collaborations.
For more information, please follow us on Twitter @WynwoodMural or Facebook and Instagram @WynwoodMuralFest #WynwoodMuralFest or email Hello@WynwoodMuralFest.com