Virtual Holiday Soul Concert
Thursday, 12/24/2020-, 08:00 pm-09:00 pm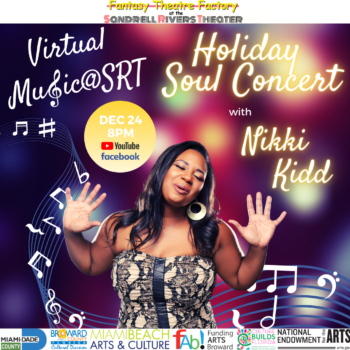 Facebook
Cost:
Celebrate the holiday season with a fun, and funky concert from the comfort of your own home! This Virtual Holiday Soul Concert will feature some of the best musicians in South Florida performing your favorite Holiday tunes in a R&B, jazz and soul style. Enjoy new versions of classics like "Jingle Bells", "Let it Snow", and also fun takes on "Santa Baby", and more.
Popular vocalist Nikki Kidd, a Miami native and graduate of the University of Miami School of Music, will brighten your holiday season with her gorgeous voice. Winner of Miami New Times "Best of Miami" award and also featured in Legacy Magazine's 40 under 40, Nikki leads her own stellar band and has also worked with KC and the Sunshine Band, Mary Wilson, Gloria Estefan, Michael Bublé, and more. For this special performance she will be joined by the region's very best musicians to deliver an unforgettable experience for all.
Tune into our Facebook or YouTube on Dec. 24th at 8pm.
facebook.com/ftfshows
youtube.com/channel/UC6dBLv9GNfiBu9w2O3_UzrA/featured
This is a free event although donations are welcome!
https://web.ovationtix.com/…/alldonations/24029/dept/1651
Sponsored by: State of Florida Division of Cultural Affairs, Miami-Dade County Department of Cultural Affairs, Broward County Division of Cultural Affairs, Funding Arts Broward and National Endowment for the Arts.