Virtual Visit from Santa Claus!
Saturday, 12/12/2020-12/12/2020, 10:00 am-12:45 pm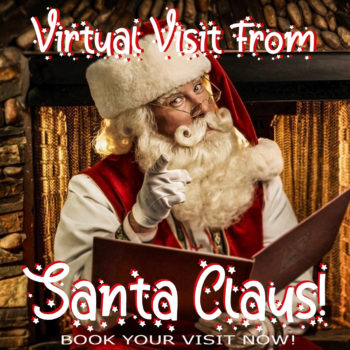 Eventbrite
Cost: $35
Santa Claus is coming safely into your own home directly from the North Pole to visit your child!
Our Virtual Visit from Santa Claus brings 45 minutes of fun and excitement, the session includes a personalized Santa greeting filled with games, stories, and Holiday music via Zoom.
3 Sessions Available
Session 1 – 10 am to 10:45 am • 15 kids*
Session 2 – 11am to 11:45 am • 15 kids*
Session 3 – 12 pm to 12:45 pm • 15 Kids*
• Kids will be sharing the session with up to fifteen other ticket holders*
Also, every child will receive a Personalized Santa Nice List Certificate & 2 tickets for Crayola Experience Orlando* *Limited to 4 tickets per family.