Mix Up Simply Chilling Rum Cocktails With BACARDÍ Rum This Hallowee
Wednesday, 10/28/2020-, 06:00 pm-08:00 pm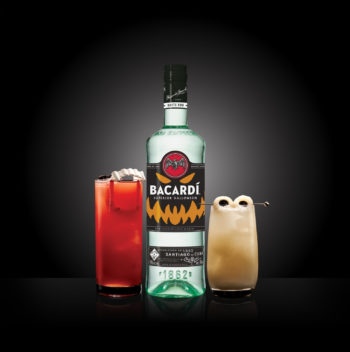 Website
Cost: Free
Join BACARDÍ Rum and ReserveBar on October 28th to kick off the Halloween celebrations and learn how to make three eerily delicious rum cocktails with BACARDÍ Brand Ambassador Tamar Orendain!
Made for ghouls and goblins alike, each of BACARDÍ's Halloween cocktails are inspired by tricks and treats, including haunts like the Blood Moon, Pineapple Potion and Tropical Ghost! Made with spooky spirits like BACARDÍ Spiced – the latest lively, flavor-packed variant to join the BACARDÍ Rum family, at-home barcart mainstay BACARDÍ Superior and the flavor-filled BACARDÍ Limon, these spine-chilling cocktails are sure to liberate your spirits at home this year!
And back for another year is the limited-edition haunted rum bottle, as BACARDÍ Superior is joining in on the Halloween fun yet again by dressing up as a glow in the dark jack-o-lantern! Available now on ReserveBar.com, be sure to order this spooky bottle to mix up your festive cocktails this Halloween!
Sign up via Zoom link below and make sure your home bar is ready to follow along, step by step. Full cocktail recipes below! https://zoom.us/webinar/register/WN_luSPax7DSWC2UlKplSX5mw?_x_zm_rtaid=S2tMqHM1QyuM7wVGkXLO5A.1603196895646.b470c860d7d93cb45f7be245dfc5246f&_x_zm_rhtaid=480
Blood Moon
Ingredients:
· 2 parts BACARDÍ Superior Rum
· 1 part Monin Blood Orange Syrup
· 1 part Fresh Lime Juice
· Ginger Beer
Method: Shake all ingredients, except ginger beer, with ice and strain into glass. Top with ginger beer and garnish with vampire teeth.
Pineapple Potion
Ingredients:
· 2 parts BACARDÍ Spiced Rum
· 4 parts pineapple juice
· For Garnish: Pineapple wedge & leaf
Method: Fill a highball or Tiki glass with cubed or crushed ice. Pour in the BACARDÍ Spiced Rum, followed by the pineapple
Tropical Ghost
Ingredients:
· 1 part BACARDÍ Limón
· 0.5 part Finest Call Piña Colada Mix
· 2 parts Ginger Beer
· 1-3 dashes Bittermans Hellfire Bitters
Method: Build ingredients in a highball glass over ice and stir to incorporate. Garnish with two blueberry-stuffed lychee fruit.
WHEN & WHERE:
October 28th, 2020 | 6:00 PM @ https://zoom.us/webinar/register/WN_luSPax7DSWC2UlKplSX5mw?_x_zm_rtaid=S2tMqHM1QyuM7wVGkXLO5A.1603196895646.b470c860d7d93cb45f7be245dfc5246f&_x_zm_rhtaid=480