6th Annual Streets Smarts Self Defense Workshop
Saturday, 10/24/2020-, 12:00 pm-02:00 pm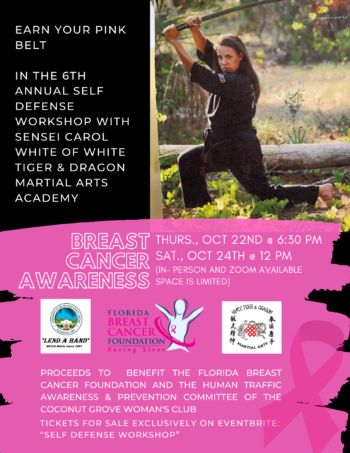 Website
Cost: 40.00
COCONUT GROVE, Florida – Now, in its 6th year, Sensei Carol White hosts the highly anticipated and motivational Streets Smarts Ultimate Self Defense Workshop in the first ever online (via Zoom) and in-person (with limited capacity) inside the White Tiger and Dragon Martial Arts Academy facility located at 3051 SW 28th Street, Miami, FL 33133 on Thursday, October 22nd, 2020 at 6:30 PM and Saturday, October 24th, 2020 at 12:00 PM.
When you attend the one-hour action packed class, you learn the basics in self defense tips and techniques; starting with how to protect and defend yourself from attackers either in a standing position and/or from the ground – where 90% of attacks end up. This dynamic course gives you the confidence to defend yourself and feel safe in an unsafe world during these unprecedented times.
Sponsored by White Tiger and Dragon Martial Arts, all of the proceeds will benefit the Florida Breast Cancer Foundation and the Woman's Club of Coconut Grove's Human Trafficking Committee. The per person cost of the course is $40 each day. Can't make it? You are encouraged to support the cause by sponsoring a known trafficked woman with an opportunity to attend one of the two courses.
You won't want to miss this annual Street Smarts Ultimate Self Defense Workshop and hone your skills that everyone must know!