Live Studio Visits: GeoVanna Gonzalez and Najja Moon with Jennifer Inacio
Thursday, 09/24/2020-, 07:00 pm-07:45 pm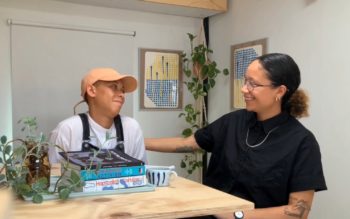 Website
Cost: Free and open to all
Join us for the premiere of Pérez Art Museum Miami's (PAMM) Live Studio Visits, a series that highlights local artists through virtual visits with PAMM curators. Get a first-hand look at the artists' work and practice through this intimate lens.
This month, artists GeoVanna Gonzalez (@vanna_juanita) and Najja Moon (@najjak) will join PAMM Associate Curator Jennifer Inacio to discuss and debut the fourth episode of their conversation series "Aesthetics of Mobility," which takes place in their mobile project space. In this episode, they reflect on time—what it reveals, what it changes—and discuss how the perpetual nature of this project has impacted their practice and their lives.
RSVP using the link on our website to join us for this live event!