DIY Haunted House Gingerbread Kit
Friday, 10/23/2020-, 09:00 am-05:00 pm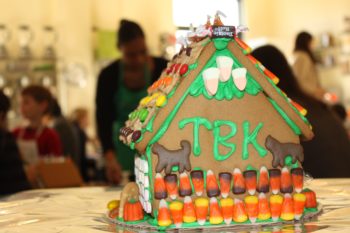 Taste Buds Kitchen
14740 sw 26 St,
Miami, Florida, 33185
Website
Cost: free pick up
Requiring social distancing? NO REPLY
Requiring masks? NO REPLY
Providing hand sanitizer?NO REPLY
Introducing our NEW at-home DIY Haunted House Gingerbread Kit
Enjoy family bonding and gingerbread fun with our DIY Haunted House Gingerbread Kit. From frosted candy corn roofs to gummy window panes, you and your creative chef will love the endless decorating options as you work together to design and decorate your very own gingerbread house masterpiece. Celebrate the season by inviting friends to join you for this creative workshop! Vegetarian.
Each kit includes:
One freshly assembled gingerbread house​
Piping bag of green meringue royal icing
Assorted Halloween-theme candies for decorating
All safely prepped and wrapped in cellophane
Step 1: Order
Choose your pick-up/delivery day, the number of kits you'd like to purchase and any fun add ons.
Step 2: Your Kit is ready for Curbside Pick-up
Your Haunted House gingerbread kit will be ready for pick-up on the date/time you selected.
(or Delivered to Your Door)
Your Haunted House gingerbread kit will be delivered to you on the date you selected. We will ring your doorbell and place the kit on your doorstep. To be eligible for delivery, you must be located within 10 miles of our kitchen address.
We hope you enjoy this festive and fully-edible craft at-home while we anxiously await welcoming you back into the kitchen for our cooking classes and events for all ages.
Happy Halloween! 🎃
We greatly appreciate you #supportinglocal during this time. Please help spread the word!