Guitars Over Guns Facebook LIVE: 90s Night Showcase
Thursday, 09/24/2020-, 08:30 pm-10:00 pm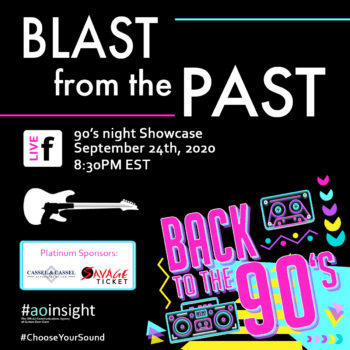 Website
Cost: Free
Does your old CD player still work? If not, don't worry! Our next showcase will feature our mentors and special guests performing music from the 90s, a decade of cult classics, boy bands, and punk rock! Mark your calendars and join us on Thursday, September 24th at 8:30 PM EST, via @GuitarsOverGuns on Facebook LIVE! To learn more, and for a full series schedule, visit: bit.ly/GOGOLiveSeries.
Guitars Over Guns is a Miami-based 501(c)(3) non-profit that offers students from disadvantaged backgrounds a powerful combination of music education and strong mentoring relationships with professional musicians to help them overcome hardship, find their voice, and reach their potential as tomorrow's leaders. Guitars Over Guns endeavors to create safe spaces for youth to express themselves through music, offering a supportive environment that empowers them to make positive choices at school, at home, and in their communities. Established in 2008, the organization has grown to include a satellite program in Chicago and has served more than 3,000 students over the past decade.
Thank you to the sponsors that make this show possible: Cassel and Cassel, Savage Ticket, Inktel Holdings Corp., #aoinsight group, Florida Blue, BAC Florida Bank, Bob & Kathy Bernstein, FON Advisors, AT&T, Green Family Foundation, and Apollo Bank.
Also, make sure to RSVP for our 7th annual Choose Your Sound Benefit Concert, presented by Savage Ticket! Guests will enjoy incredible performances from Guitars Over Guns mentors, alumni and special guests, not to mention upgraded sponsor experiences, interactive conversations, and a jaw-dropping auction! Get your free ticket and mark your calendars for November 14th at 7:00 p.m. EST. To learn more and RSVP, click here: bit.ly/chooseyoursound2020
The Guitars Over Guns program is made possible with the support of the Miami-Dade County Department of Cultural Affairs and the Cultural Affairs Council, the Miami-Dade County Mayor and Board of County Commissioners. Their program is funded in part by The Children's Trust. The Children's Trust is a dedicated source of revenue established by voter referendum to improve the lives of children and families in Miami-Dade County by making strategic investments in their future.