Historic Virginia Key Beach Park Trust 75th Anniversary Virtual Celebration
Saturday, 08/01/2020-, 06:00 pm-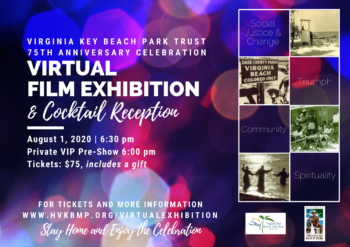 Website
Cost: $75
Enjoy an Evening of Entertainment from the Comfort of Your Couch!
JOIN US for Virginia Key Beach Park Trust's 75th Anniversary Celebration – Virtual Film Exhibition and Cocktail Reception on Saturday, August 1, 2020, at 6:30 pm. Ticket purchasers receive a VIP pass to Private Pre-show at 6:00 pm.
The Film Exhibition will commemorate the progressive struggle among African American and Caribbean diaspora throughout South Florida over the last 75 years. Notable Historian, N. D. B. Connolly narrates the digital experience, which highlights the critical stories that framed our history.
Don't miss the hottest event this summer!
The show includes:
• Three Documentary Shorts narrated by local Historian, Nathan Connolly
• Host Vanessa James, of Vanessa James Media
• Kizie – the Violist, who will take you on a journey through the Historic Beach Park Site-no snooze here, you will be on your feet dancing!
• Three Cocktail recipe (acholic or non) demonstrations by one of Miami's top Mixologists. You can't have a cocktail party without cocktails 😊
• Surprises, including community and celebrity shout outs, tributes, and more!
Ticket purchasers select a Branded Mixology Cocktail/Mocktail Kit or an Engraved Bamboo Cheese Board as our gift to you. Ticket purchaser names will be featured online during the event and listed under "The making of this documentary was possible through the generous gifts of" in documentary closing credits.
Thanks for staying home and spending the evening with Virginia Key Beach Park Trust
celebrating 75 years of history, culture, and the environment.
TO PURCHASE TICKETS AND MORE INFORMATION
WWW.HVKBMP.ORG