Come Suck Some Head @ Phuc Yea! Monthly Crawfish Boil!
Wednesday, 03/18/2020 – 06:00 pm – 10:00 pm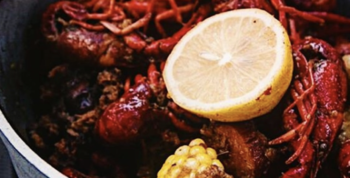 Phuc Yea
7100 Biscayne Boulevard,
Miami, Florida 33138
Website
Cost:
Nothing says spring to us like crawfish does !
We will be offering:
+ Live Crawfish by the Pound served with andouille sausage, corn, potatoes and chili cajun butter
+ Chicken and Seafood Gumbo, lemongrass, andouille and Chinese sausage, fish sauce, okra.
+ Sancocho Pho
+ Fire Roasted Oyster Specials
+ Shot & Drink Specials …LET'S GO!
Tell your friends, tell your fam, the more the merrier.
Entrance to the event is FREE. Food & drink will be sold onsite as a separate menu plus our a la carte menu will be available. Crawfish are available on a first come first serve basis. Make your table reservation as early as possible via www.phucyea.com.
Guests can pre-buy larger quantities of crawfish to ensure crawfish day of the event.
—–
3 lbs for $69
5 lbs for $105
—–
CRAWFISH BOIL TO BE SOLD @ $29 PER POUND ON THE NIGHT OF EVENT.
Phuc Yea is a flavorful Vietnamese-Cajun cuisine restaurant created by Cesar Zapata and Aniece Meinhold in 2016. Wearing the hats of co-owner and Executive Chef, Cesar Zapata helms the kitchen, where he creates Phuc Yea's signature Vietnamese-Cajun fare, and Aniece Meinhold, whose German and Vietnamese heritage brings a new take on Asian cuisine to Miami. FOH, beverage programs and design. Phuc Yea is located at 7100 Biscayne Blvd and is open Wednesday –Monday, where it serves dinner, Sunday brunch and daily happy hour. For more information visit www.phucyea.com or via phone at (305) 602– 3710. Follow @PhucYea.