2020 Miss Cuba U.S. & Señorita Cuba
Friday, 02/28/2020 – 07:00 pm – 10:00 pm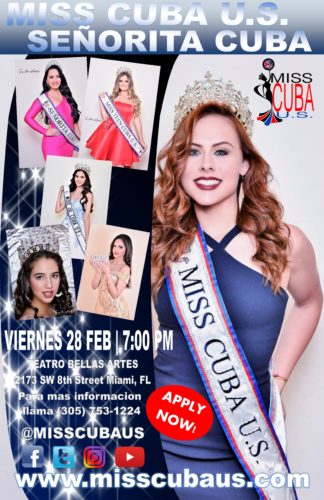 Teatro de Bellas Artes
2173 Southwest 8th Street,
Miami, Florida 33135
Website
Cost: $25
2020 Miss Cuba U.S. & Senorita Cuba Pageant Final Gala
The second edition of Miss Cuba US will take place on Friday February 28, 2020 at Teatro de Bellas Artes. Contestants will compete in Opening Number, Swimwear, Creative Fashion Wear, and Evening Gown. The winners will have numerous of appearances throughout the year with charitable causes, photo shoots, fashion shows, and red carpet events and have the chance to advance to compete in a national and international level competitions.
La segunda edición de Miss Cuba US tendrá lugar el viernes 28 de Febrero de 2020 en el Teatro de Bellas Artes. Los concursantes competirán en número de apertura, traje de baño, moda creativa y traje de noche. Los ganadores tendrán numerosas apariciones a lo largo del año con causas benéficas, sesiones de fotos, desfiles de moda y eventos de alfombra roja y tendrán la oportunidad de avanzar para competir en competiciones de nivel nacional e internacional.
For more information you can visit the websites at www.misscubaus.com contact the director Fatima Coello at 305-753-1223 or via email at misscubaus@gmail.com
Para obtener más información, puede visitar los sitios web de www.misscubaus.com ponerse en contacto con la directora Fatima Coello al 305-753-1223 o por correo electrónico en misscubaus@gmail.com
Titleholders Traveling Royalties of 2019 / 2020 are welcome to attend in Sash and Crown.
Tickets sales, $25 in advance, $35 at the door.
Children under age 12, $10 in advance and at the door.