Hive Brings Art Utopia To Wynwood This Miami Art Week
Thursday, 12/05/2019 – 12/08/2019 03:00 pm – 05:00 am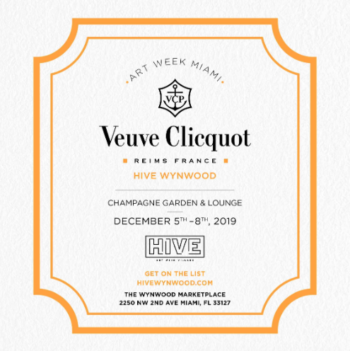 The Wynwood Marketplace
2250 Northwest 2nd Avenue,
Miami, Florida 33127
Eventbrite
Cost: Free
Art Utopia comes to life at HIVE where Miami Art Week go-ers will experience various immersive installations for all to touch, look, feel and taste the best Miami has to offer. HIVE, located in the heart of Wynwood, is a four-day event highlighting Mixology, Technology and the Culinary Arts taking place Thursday, December 5 through Sunday, December 8. The inclusive event invites art enthusiasts, tourists and locals alike to tour the 100,000 SQ FT property, attracting 10's of thousands of guests year after year where everyone explores, creates and unites!
HIVE will bring a swanky and chic atmosphere, where some of the nation's most alluring brands showcase immersive pop-ups, like the Veuve Clicquot Champagne Garden, a beautifully landscaped garden with bars overflowing bubbly, lush garden photo opps, Sunset DJ's to dance and unwind with a Veuve Clicquot RICH bubbly in hand. Creatives will feel right at home at the Tito's Stillhouse Lounge pop-up, this specialty cocktail lounge is a sanctuary for artisans and spirited buyers who relate to Tito's pursuit for superb craftsmanship. Discover mixology that celebrates the DIY spirit, participate in community art murals and shop local Wynwood merchants.
Discover Mixology that celebrates Wynwood's DIY spirit at the Tito's Stillhouse lounge – This specialty cocktail lounge is a sanctuary for those who relate to Tito's pursuit for superb craftsmanship – participate in live art mural paintings and enjoy acoustic band sets all while trying the very best Tito's cocktails.
Push hunger aside and enter the HIVE Culinary Pavilion where is reimagined as an expansive food hall representing some of the best flavors, chefs and concepts in the Magic City. Enjoy communal style seating, specialty cocktails created by top mixologists, table service and foodie panels. Care to continue to unleash the creative in you? Food photography workshops will be in session throughout the event!
Miami Art Week has some of the best parties in the nation and Heineken House at theDECK will be kicking-up the music and get the party started at the first-ever Heineken House pop-up. Wynwood's theDeck will showcase a four-day mega-club experience with immersive video displays, light shows and some of the very best DJ's keeping everyone dancing all night long.
HIVE will launch on Thursday, December 5th and will be open until Sunday, December 8th. HIVE will open on Thursday, December 5: 3 PM-5 AM. Friday, December 6: 3 PM-5 AM, Saturday, December 8: 12 PM-5 AM, Sunday, December 9: 12 PM-10 PM. The event is FREE and open to the public; however, if you are "on the list" you can reserve a complimentary cocktail by visiting: https://www.eventbrite.com/e/hive-art-week-village-2019-tickets-53541450921?aff=web
For more information visit: https://www.hivewynwood.com