Keeping Current Festival: Climate Adaptation Fair
Thursday, 12/12/2019 – 05:00 pm – 08:00 pm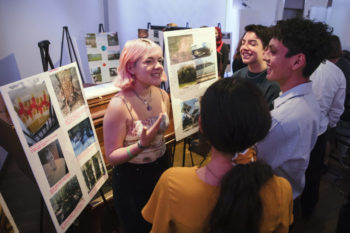 Venture Cafe Miami
1951 NW 7th Ave,
Miami, Florida 33136
Website
Cost: Free
On December 12, see innovative resilient designs for South Florida, meet the inspiring students of the Climate Design Lab, and hear from local climate justice, design, and environmental resilience groups as part of Venture Café Miami's #ThursdayGathering.
Get inspired by the possibilities for climate action through design solutions and learn about the many ways people are working in design, resiliency, and climate science and action. A diverse range of South Florida-based organizations working in climate science and action will run information booths about their efforts, spanning the fields of architecture, design, engineering, planning, and municipal government.
The day's activities will also include Pecha Kucha-style presentations by some of these organizations and students of Van Alen's Climate Design Lab, a summer intensive program held in collaboration with Miami-Dade County Public Schools, The CLEO Institute, and University of Miami to research, design, and develop forward-thinking solutions to climate change.