Passage to Memory
Saturday, 11/09/2019 – 05:00 pm – 08:00 pm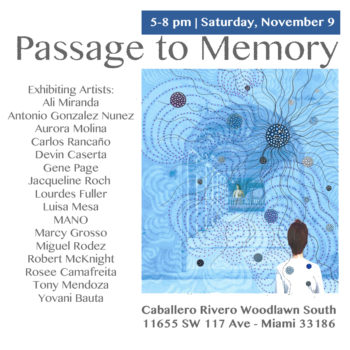 Caballero Rivero Woodlawn South
11655 SW 117 Street,
Miami, Florida 33186
Facebook
Cost: Free
What becomes a memory? Please join us for Passage to Memory an exhibit that celebrates everyday occurrences that form the basis for special memories: child's play, a beloved book, family traditions, forgotten photographs, holidays, daily rituals, and favorite landmarks as interpreted through contemporary works of art created by Miami-based artists.
Exhibiting Artists:
Ali Miranda
Antonio Gonzalez Nunez
Aurora Molina
Carlos Rancaño
Devin Caserta
Gene Page
Jacqueline Roch
Lourdes Fuller
Luisa Mesa
MANO
Marcy Grosso
Miguel Rodez
Robert McKnight
Rosee Camafreita
Tony Mendoza
Yovani Bauta
Opening Reception
Caballero Rivero Woodlawn South
11655 SW 117 Street
Miami, FL 33186
live music, and light bites
Complimentary Admission
Exhibit will be on view through December 14.
Curated by Cuqui Beguiristain, MANO Fine Art
presented by Caballero Rivero Woodlawn South
Special Thanks:
Compositum Musicae Novae, (CMN)
Music Coordination
Musicians
*Evgeniya Antonyan, Violin
*Evgeniya Mott, Cello
Artwork featured on invitation:
Always There (detail), mixed medium
by Luisa Mesa