MOAD MDC Presents: Black Power Naps/Siestas Negras by Navild and Sosa
Thursday, 10/24/2019 – 10/24/2019 06:00 pm – 08:00 pm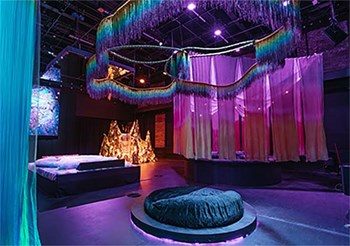 Museum of Art and Design at MDC
600 Biscayne Boulevard,
Miami, Florida 33132
Website
Cost: Museum admission: $12 adults; $8 seniors and military; $5 students (13–17) and college students (with valid ID); free for MOAD members, MDC students, faculty, and staff, and children 12 and under.
MOAD MDC presents Black Power Naps/Siestas Negras by Navild and Sosa, a multi-sensory, interactive installation designed to provide joyful and relaxing relief from fatiguing systems of inequality. The installation will serve as a platform for several special live events, including Guided Nap Meditations led by the artists and live DJ soundscapes performed from bed.
Black Power Naps/Siestas Negras invites visitors to lounge on a variety of embellished beds, replete with gauzy canopies, serene lighting, therapeutic sound vibrations, and other restorative props. Correlating the exhaustion tactics once used to subjugate slaves with contemporary systems of exploitation and erosive fatigue, artists Navild and Sosa offer this "energetic repair" as a way as a way to "reclaim laziness and idleness as power" for those historically deprived of it.