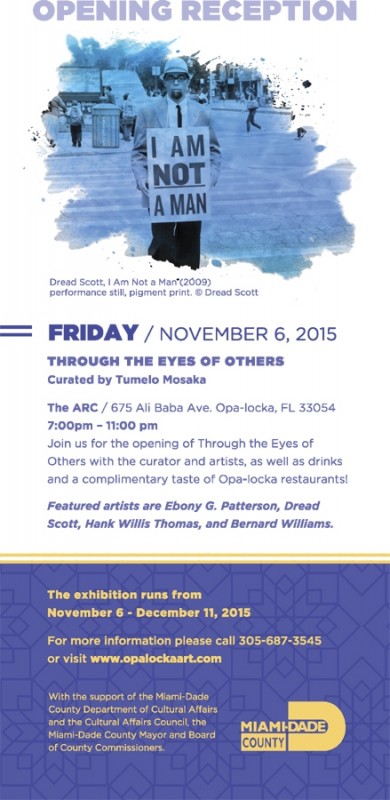 The Art of Transformation: Opening Reception
Friday, 11/06/2015 – 07:00 pm – 11:00 pm
The Arc
675 Ali Baba Avenue,,
Opa-Locka, Florida 33054
Website Link
Cost: Free
Curated by Tumelo Mosaka, "Through the Eyes of Others" aims to provide a critical platform for re-imaging the past, present and future possibilities of blackness as something more complex than race. What words, actions and images can interrogate the culture of violence, distrust and hatred applied to black people? While stereotypical images of black people continue to reinforce negative attitudes, work in the exhibit resists and defies easy consumption of these subjects. Participating artists include Ebony G. Patterson, Dread Scott, Hank Willis Thomas, and Bernard Williams.
Join us for the opening reception with the curator and artists, a sampling of local Opa-locka restaurants, drinks, and music.
Visit www.opalockaart.com for more info or contact Aileen Alon (aileen@olcdc.org).