PRESS RELEASE
Beck's Urban Canvas Launches in Miami This Summer with 15 Murals Spread Throughout Wynwood, Little Haiti, Little Havana and Hialeah
The Art and Community Revitalization Campaign Will Feature Twelve Miami-Based Artists, Encouraging Their Creative Freedom and Supporting Events in Miami's Burgeoning Communities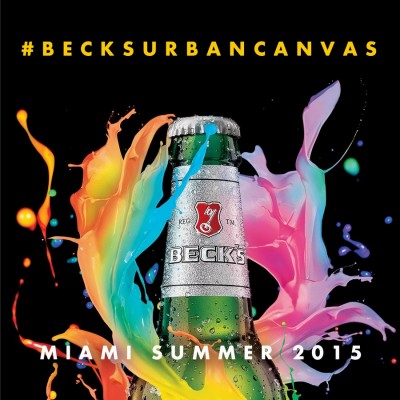 Miami, FL (July 9, 2015) – Beck's, the world's most recognized German-style beer, introduced Beck's Urban Canvas today, a community-focused art project aimed at neighborhood revitalization and the fostering of progressive thinking in Miami. Beck's is continuing its tradition of supporting creators and innovators from around the world. For the first ever Beck's Urban Canvas project, 12 visionary artists from Miami have been hand-selected to create 15 original works of art throughout the Magic City. These specially commissioned murals and installations will come to life in Miami's creatively inspired communities of Little Havana, Little Haiti, Wynwood and in the recently launched artist live/work area known as the Leah Arts District in Hialeah. The Beck's Urban Canvas crew of multicultural artists include: Trek 6, Don Rimx, Hoxxoh, Typoe, Jose Mertz, Tatiana Suarez, 2 Alas, Ernesto Maranje, Magnus Sodamin, Diana Contreras, Jessy Nite and Abstrk.
The Beck's Urban Canvas project will also come to life at special events this summer season. Beck's Urban Canvas will create special pop-up party experiences while supporting essential community programming such as Viernes Culturales in Little Havana, Big Night in Little Haiti, Arts and Entertainment District, the Leah Arts District and Wynwood Art Walk.
"We are always looking to enable artists and support communities in South Florida that are taking part in really interesting and community-focused work. The things that may go unnoticed at first, but ultimately can't be ignored," said Becks Regional Marketing Director, Mateus Schroeder, "The artists we've invited to participate in this project are helping to shape the local culture and we are excited to share their creations with Beck's drinkers and support events in these respective communities that everyone can appreciate."
Beck's Urban Canvas is intended to celebrate the relationship between creative expression and community engagement. Events will be announced on social media via the #BecksUrbanCanvas hashtag. Art lovers are invited to visit the murals during this creative process and share photos on social media.
For more details, please visit BecksUrbanCanvas.com. Follow #BecksUrbanCanvas for up to date information.