Yo Miami 4 Year Anniversary Bash
Sunday, May 24, 6:00pm – 10:00pm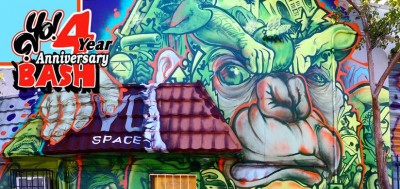 Yo Space
294 NE 62nd St
Miami, Florida 33138
RSVP on Facebook
We're celebrating 4 years of being active in the Miami arts and culture scene with an event that brings together all the elements we love in our city: Art, Music, Beer and Food.
While there are many private collections focusing on Latin American, Caribbean, and other cultural art movements in the region, none specifically focus on artists who have made Miami their home. As Yo Miami's four year anniversary approaches, it will unveil its biggest project to date: the Yo Miami Permanent Collection, aimed at rectifying this lapse.
"What Remains" the first exhibition for the collection is indicative of its mission to document the evolution of the Miami art scene in an effort to expose the immense talent that has grown out of South Florida. The exhibition will be the first of many initiatives focused on preserving our city's artistic legacy and sharing it with residents and visitors alike.
-"What Remains" exhibition artists: Trek 6, Ruben Ubiera, Jay Bellicchi (Remote), Claudio Picasso (CP1), Yuhmi Collective, Douglas Hoekzema, Lorie Ofir, Rei Ramirez, Nicole Salgar, Luis Berros, Nate Dee, Delvs, Ivan Roque, Raul Santos (OEMS), WHUT
-Featured Mural Installation: Raul Santos II
-other artists on exhibition: Kazilla, Reinier Gamboa, Elio Mercado (Evoca1), Dorandy Mercado, Ernesto Kunde, JeanPaul Mallozzi, Danny Ferrer, GG, Goop Massta, LEBO, Registered Artist, Alex Yanes, Meluka, Robert Jimenez
-Bands: JUke, Elastic Bond (Acoustic Set ft. Komakozie), Raffa Jo + Jayjohero
-DJ: Mr. Jolt (Jolt Radio)
-Food Trucks: Ms. Cheezious, HipPOPs Handcrafted Gelato Bars
-Beer: Wynwood Brewing Company, MIA Brewing Co., J Wakefield Brewing, Concrete Beach Brewery