Open Studios Fountainhead
Friday, April 10, 6:00pm – 10:00pm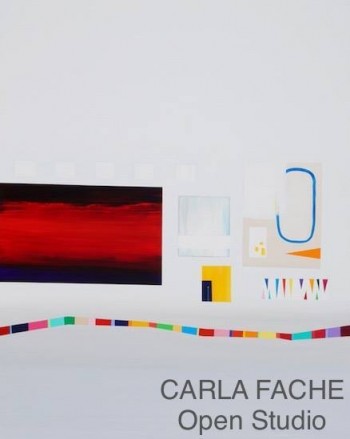 Fountainhead Studios
7338 NW Miami Court
Miami 33137
Facebook
Visitors will have the opportunity to have an intimate look inside the artist's studio and learn more about her new works.
In her studio, Fache will have some of her recent works in exhibition. Among them, "Untitled" an acrylic big scale painting and a new installation.
Carla Fache is a chilean born Miami-based visual artist who explores the frontiers of color, space, balance and matter, through her paintings and installations.
Her work unfolds the juncture of parallel scenarios that occur simultaneously to quotidian realities, providing dimensions of escape against the society status quo, leverage a reconnection through her canvas portals.
Color is essential in Fache's work; she explores its infinite combinations, re- contextualizing the concept of coexistence, color, time and universality; a return to the essential.
Her work employs a variety of materials including traditional canvas, but also introducing unusual artifacts, expanding outside of the two-dimensional plane of the canvas and into the surrounding environment.
"Opening the doors of my studio is like opening the door of color to my canvas's mental space", explains Fache.
This is a unique opportunity to see inside the studios of some of Miami's most talented artists. Nearly 40 artists will have their studios open. You can meet with the artists and talk about their work or simply browse through the studios. Please feel free to invite friends. With artists working in every medium, there's something for everyone to enjoy.