Art/Work Connections 15: Converting "Likes" to Email Subscribers by Patrick Barbanes
Tuesday, January 14, 2014, 6:30pm-9:00pm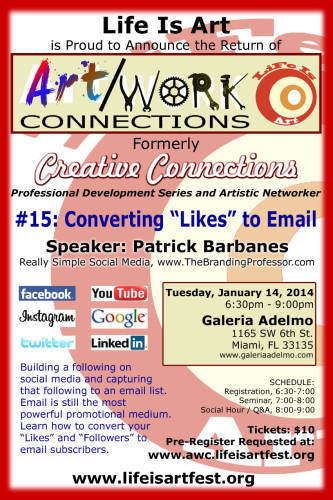 Galeria Adelmo
1165 SW 6th Street
Miami, FL 33135
Register Online
Life Is Art is proud to announce the return of Art/Work Connections Professional Development Series and Artistic Networker (formerly Creative Connections).
#15: Converting Social Media Fans to Email Subscribers. Presentation by Patrick Barbanes.
In this edition of the popular Art/Work Connections (formerly Creative Connections) seminar series, we will cover building a following on social media and capturing that following to an email list. Despite the popularity of social media, email is still the most powerful promotional medium for connecting with your fans. Learn how to build up your social media following and then convert your "Likes" and "Followers" to email subscribers.
Social Media Marketing expert Patrick Barbanes, creator of "Really Simple Social Media", will be leading the presentation. Following the presentation, there will be a social hour with complimentary wine and snacks and time for personal questions with Patrick. The information will be targeted to artists and creatives of all disciplines, but everyone is welcome.
Galeria Adelmo is located in the revitilizing Little Havana area just west of Brickell.