Blanc NYE 2014 at The Ritz Carlton Miami Beach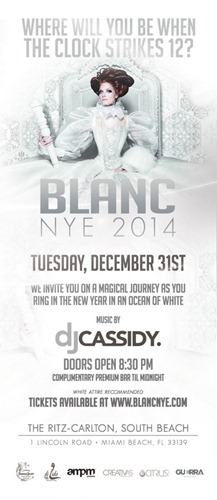 Tuesday, December 31st, Doors Open At 830pm
The Ritz Carlton South Beach
1 Lincoln Road
Miami Beach, Fl 33139
Buy Tickets Online
Required dress for the event: evening wear, white is encouraged.
Presale tickets are priced at $125 and includes a premium open from 8:30 until midnight.
Table reservations available.
A portion of the proceeds of all sales will benefit the Miami Beach Chamber Education Foundation.
The Ritz Carlton South Beach will become ground zero for the most important New Year's party in Miami as 2014 falls upon us. BLANC NYE 2014 will be a magical journey that rings in the New Year in an ocean of white. Taking place on Tuesday December 31, 2013, BLANC NYE 2014 will feature over the top specialty entertainment, renowned DJ's, and opulent décor on one of South Beach's most stunning properties.
BLANC NYE 2014 is a collaboration of some of the most talented and passionate event producers in South Florida. Celebrating New Year's for many represents an inspiring new start. For this reason, BLANC NYE 2014 will feature a theme based exclusively around the color white which is synonymous with the clean slate that a new year represents. AMPM Presents, Creativas Group Public Relations and Branding, and Tony Guerra/Citrus Miami came together to conceptualize BLANC NYE which will help transport guests to a magical far off land where one can forget the everyday and look forward to welcoming the New Year in inspirational wonderment.
Guests can expect an atmosphere comprised of live entertainment, mystical characters, aerialists, choreographed performances and the like. With the perfect backdrop of the Atlantic Ocean those in attendance will be part of an event reminiscent of aspects from familiar favorites such as "Fantasia", "Merlin", and "Atlantis" all wrapped into one. An event of this caliber will not be complete without a premium open bar from 8:30PM until the champagne toast at Midnight. Music will tie the elements together and BLANC NYE will feature one of the premier open format DJ's: DJ Cassidy.
The highly acclaimed DJ Cassidy has been dubbed "DJ to the Stars" and has been in demand for some of the most noteworthy global personalities to include Justin Timberlake, Jennifer Lopez, Naomi Campbell, Kim Kardashian Oprah Winfrey, President Barrack Obama and was the DJ for Jay-Z and Beyoncé's New York City wedding. From New York to Dubai, from Paris to Tokyo, DJ Cassidy performs in the hottest nightclubs worldwide and will be present to make BLANC NYE 2014 for the go to New Year's Eve Party in South Florida.
The question is: "Where will you be when the clock strikes 12?"