Saturday, November 9th, 2013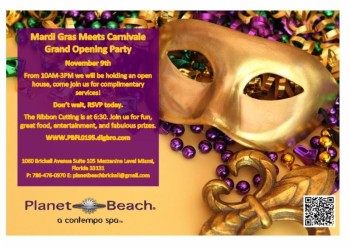 10:00 am to 3:00 pm (Open House)
6:30pm to 9:30pm (Ribbon Cutting & Grand Opening Party)
Planet Beach Brickell
1060 Brickell Ave, #105 (Mezzanine)
Miami, FL 33131
RSVP: planetbeachbrickell@gmail.com
Valet Parking: 2 Hours Free w/ validation
Dress Code: Casual for Open House, Cocktail Attire for Party
Saturday join the Downtown Miami & Brickell Chamber for the Grand Opening of one of our members, Planet Beach Brickell. Music, Food & Fun await with a Mardi Gras meets Carnivale theme.
Planet Beach Launches New Franchise Location in Brickell
Local business owner Natasha Gelman becomes one of the newest franchisees and will celebrate with a Grand Opening party in November
Located on the Mezzanine level of 1060 Brickell, Planet Beach Brickell brings self-automated spa services and the contempo spa concept to hundreds of busy working women (and men) in the Brickell and Downtown Miami area. After months of renovation, the location is finally ready for its close-up and plans to showcase its services with a two-day Grand Opening party, November 8th and 9th.
At the age of 16, Ukranian-born immigrant Natasha Gelman arrived in Miami with her family and not a penny to her name. Through hard work, perserverence and a realty business, Natasha has since amassed ownership in three well-known Miami restaurants. As a busy working woman herself, Natasha began frequenting a Planet Beach location in Miami Beach and, according to her, "fell in love with the Contempo Spa concept." She added that, "The feeling I got when going to this spa kept me coming back week after week and that is the feeling I wanted to bring to more women like me."
Brickell is full of people who need a way to relax, unwind and de-stress and industry trends indicate that more consumers are making spa services part of their regular personal wellness regimens. However, traditional day spas can become expensive and difficult to incorporate into a busy schedule. Eighty-three percent of spas have made changes such as increasing treatment options, offering retail products, adding new spa programs and offering shorter treatment durations. This recipe for success was pioneered by Planet Beach, as it was the first company to challenge the concept of the traditional day spa by offering high-quality automated spa services that are convenient and affordable.
Planet Beach evolved into the spa industry in 2005 by expanding beyond tanning options to introduce its Relax, Glow and Renew categories of services to customers. Today it offers more than 20 push button automated spa services including massages, facials, hydration treatments, teeth whitening, red light therapy, as well as nutritional supplements and a skincare line. The automated spa is a unique spin on the traditional day spa giving customers control and offering them unlimited access to a full suite of spa services for a low monthly membership fee.
The monthly membership model allows customers to easily budget for spa services knowing the price they will pay for their monthly wellness needs. Planet Beach offers convenience for customers with self-automated services all in one location. Service times can be controlled to fit into a busy schedule or make for a relaxing day at the spa. Consumers are moving toward this new model for day spas and choosing affordable, convenient services over traditional spa options.