The Idan Raichel Project with new album Quarter to Six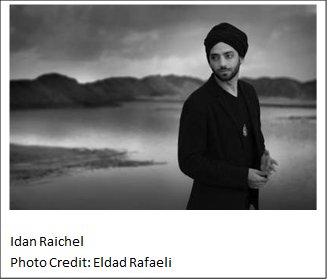 0Thursday, October 17, 2013 at 8:30 p.m.
John S. and James L. Knight Concert Hall
1300 Biscayne Boulevard
Miami, FL 33132
Tickets: $35-$75*.
A $150 VIP Package includes premium seats, post-show meet-and-greet and photo with the artist
www.arshtcenter.org
The Adrienne Arsht Center for the Performing Arts of Miami-Dade County is proud to present the return of the triple platinum-selling The Idan Raichel Project, an ever-changing ensemble of multicultural performers from Africa, the Middle East, Latin America and more, led by internationally-acclaimed singer-songwriter, producer and musician Idan Raichel. Launching the Center's 2013-2014 Live at Knight Series, The Idan Raichel Project will perform hits such as "Mi'Ma'amakim" and "Boee," as well as new songs from his album Quarter to Six on October 17 at 8:30 p.m. in the John S. and James L. Knight Concert Hall.
"We look forward to welcoming The Idan Raichel Project back to our world-class stage. Raichel's cross-cultural music is beautifully inspiring and is a perfect fit for South Florida's robust multiethnic community," said John Richard, president and CEO of the Adrienne Arsht Center. "At a time when headlines are dominated with news of war, it's artists like Idan Raichel that remind us to celebrate cultural diversity."
Since the release of its debut self-titled album in 2002, The Idan Raichel Project has been known for its fusion of Israeli pop music with Middle Eastern, African, Indian and global sounds. More than a decade later, Idan Raichel's unique musical style and ability to collaborate with a variety of artists continues to make an impact – earning him one of the biggest-selling records in Israeli history and also catapulting him into a major figure in the international global music scene.
"If I had called the album just 'Idan Raichel,' people would have thought that Raichel is the main voice on all the songs. I wrote the songs and I arranged and produced them, but I perform them together with other vocalists and musicians. On the other hand, we are not a group. It's something in between," explains Idan Raichel. To date, more than 95 singers – ranging 16 to 91 years old – from dozens of different countries and cultural backgrounds have participated in the Project's recordings or performances.
The Idan Raichel Project's most recent album, Quarter to Six (2013), reflects on how to find peace at the end of life. The artist describes the album's title as a metaphor for a crossroads within his own life – a time where he felt his Project had reached a period of change, reflection and transition. Musically, the record is more acoustic than his previous ventures and blends his mellow voice with electronics and a diverse lineup of world musicians such as Portuguese fado star Ana Moura, Palestinian-Israeli singer Mira Awad, German counter-tenor Andreas Scholl, Colombia's Marta Gómez, Vieux Farka Touré and a selection of some of Israel's top up-and-coming singers and musicians.
Prior to the release of Quarter to Six, Idan Raichel released four studio albums and a 3-CD collection of live recordings, launched a North American tour with longtime collaborator and Grammy Award winner India.Arie, and celebrated the 10th anniversary of The Idan Raichel Project with a series of sold-out concerts held at the Caesarea Amphitheater, an ancient Roman amphitheater near Tel Aviv. Idan Raichel has also had the privilege to perform at a Nobel Peace Prize awards ceremony and for President Obama at the Kennedy Center on Martin Luther King, Jr. Day. In addition, the Project has headlined some of the world's most prestigious venues including New York's Central Park Summer Stage, Apollo Theater, Town Hall and Radio City Music Hall; Los Angeles' Kodak Theater; the Sydney Opera House; Zenith and Bataclan in Paris; London's Royal Albert Hall and many international festivals.