Rise Up Gallery & You And I Are Love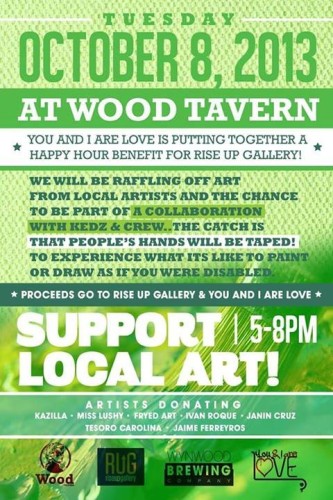 Tues, Oct 8, 5pm-8pm
Wood Tavern
2531 NW 2nd Ave.
Miami, Florida 33127
Rise Up Gallery & You And I Are Love and our sponsors Wynwood Brewing Company will be hosting a Happy Hour Benefit event for Rise Up Gallery, a non-profit gallery in Wynwood. We will be raffling off art donated by our talented local artists during happy hour. You will also have the chance to collaborate with Kedz & Crew with one catch: your hands will be taped! This way you get to experience what it's like to paint or draw if you were disabled.
Rise Up helps disadvantaged artists in our community–partners with Jackson Memorial Hospitals twice a month giving art therapy and provides the local artist a place to showcase their work. David McCauley is truly an amazing individual! He inspires people to believe in themselves and follow their dreams.
Come out to have fun, enjoy free tacos and support Rise Up Gallery @ Wood Tavern next Taco Tuesday!
And learn about what Rise Up is doing in the art community!
Giving is receiving!
Artists Donating work…
Kazilla Illa
Jaime Ferreyros
Janin Cruz
Ivan Roque
Alexandra Lushy Seda
Tesoro Carolina
Clay Frye
Aquarela Js
Sharif Slimting
Effis Art