St. Jude "It's All About The Kids" Signature Event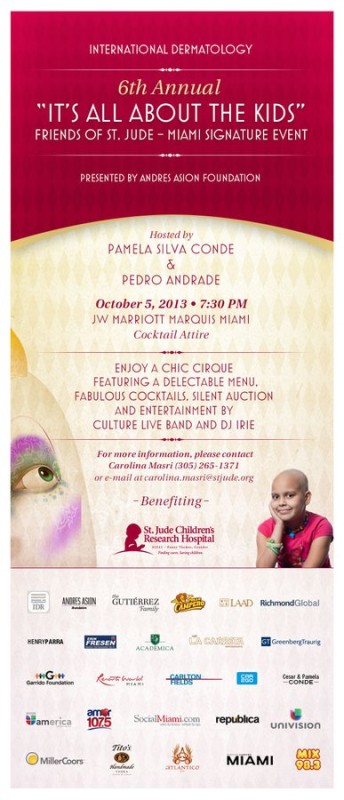 Saturday, Oct. 5, 2013 at 7:30 p.m.
JW Marriott Marquis
255 Biscayne Blvd Way
Miami, FL 33131
Tickets: start at $150 for members and $175 for non-members
Purchase Tickets Online
Friends of St. Jude (FOSJ) Miami, the young professionals dedicated to raising awareness for St. Jude Children's Research Hospital's mission, and chaired by Jeb Bush Jr., invites the South Florida community to the sixth annual International Dermatology "It's All About the Kids" event, presented by the Andrés Asion Foundation.
"We are excited to host another successful event, to ensure children battling cancer and other life-threatening diseases have the opportunity to receive the treatment and care they need," said Jeb Bush Jr., chair of FOSJ. "Thanks to our partners and South Florida's ongoing support, Friends of St. Jude has been able to raise more than $600,000.00 to benefit thousands of patients; ensuring that none of their families ever receives a bill from St. Jude for their treatment, medicines, travel and lodging costs."
During the event, guests will have the opportunity to savor an exquisite tasting menu and sip delicious cocktails, donated by Tito's Handmade Vodka, while enjoying special music performances by The Culture Band and DJ Irie. "It's All About the Kids" will be hosted by award-winning journalist and anchor of Univision Network's news-magazine show Primer Impacto Pamela Silva Conde, and co-anchor of "The Morning Show" on Fusion, a new cable network for multi-cultural millennials, Pedro Andrade. This year's "It's All About the Kids" presenting sponsor is the Andrés Asion Foundation. "What St. Jude does for the advancement of cancer research is priceless. Giving life changing opportunities to children all over the world!" commented its founder, Andrés Asion.
Silvia Trinidad, from International Dermatology Research, Inc., will be recognized for her unwavering, life-long commitment to St. Jude Children's Research Hospital. Throughout the years, Silvia has been a relentless advocate in the fight against pediatric cancers worldwide.
"I'm honored to have been selected as this year's honoree, and applaud St. Jude for their tireless mission to offer all children with cancer and other diseases the care they need to live," declared Trinidad, who serves as president and research director of said organization. "It's important for all of us to know, however, that our work doesn't end here. We must continue to help advance treatment and research that will get us closer to a cancer-free future for our children."
International Dermatology will serve as the event's title sponsor for the sixth consecutive year, while the Andres Asion Foundation will serve as the event's presenting sponsor for the fourth consecutive year. Other event sponsors include: Pollo Campero/The Gutierrez Family, LAAD, Peter Kellner, Erik Fresen, Academica, The Valls Family, Resorts World Miami, Henry Parra, GreenbergTraurig, Car2Go, Cesar and Pamela Conde, Carlton Fields, Garrido Foundation, Sarria Enterprises, INC., Braman Honda, VELU, Promotional Party Sticks, Midtown Residences, Gymboree, Land South Group, Vestcor Foundation, FPL, AmeriKooler, República, MillerCoors, Cutty Sark, Tito's Handmade Vodka, Univision Radio, SocialMiami.com and Miami Magazine.