Meet and Greet Luther (Uncle Luke) Campbell
Saturday, October 5th from 6-10pm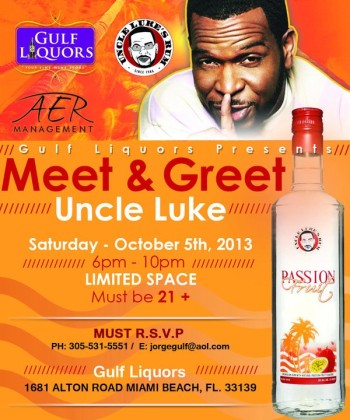 Gulf Liquors
1681 Alton Road
Miami Beach, FL. 33139
www.UncleLukesRum.com
RSVP Required to jorgegulf@aol.com
Luther "Uncle Luke" Campbell is pleased to unveil Uncle Luke's Rum (ULR) Passion Fruit, the first flavor in his line of imported signature Rums, exclusively to the South Florida market. "Passion Fruit" has an exceptionally smooth, refreshing, and authentic taste that today's modern consumer is looking for. It offers a distinct profile unmatched by any other rum currently on the market.
Rightfully so for Campbell's legendary status represents a distinction that can't be diminished. He was the first to independently own a thriving record label in the South. He knocked down doors by taking the issue of freedom of speech on musical recordings to the Supreme Court and won. In doing so he created the very first parental advisory sticker. He created the first street team and discovered talent that has gone on to sell millions of records.
Uncle Luke's Rum Passion Fruit is manufactured exclusively by Grenada Distillers Limited and imported from the Caribbean island of Grenada. Grenada Distillers is the largest and best-known distillery in Grenada which has been in operation since 1937 and has been awarded over 105 medals internationally for their rum products. Grenada Distillers Ltd aims to achieve the highest quality and total customer satisfaction. Uncle Luke's Rum is made under the expertise of their trained distillers using rich molasses, distilled and blended using their own secret traditional methods. The rum line is distributed by Republic National Distribution and is expected to be released to additional markets by the end of the 2013.
A consummate trendsetter, Luther Campbell is a longstanding Rum connoisseur, which makes Uncle Luke's Rum a long overdue venture.