Start Your Engines Leonardo Hidalgo Designs a Superhero Luxury Art Car Unveiled During Miami's Downtown Art Days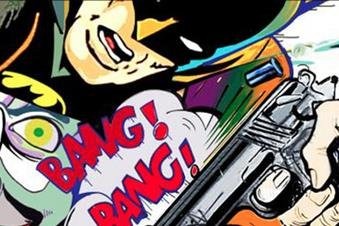 Exhibition and VIP Opening Reception
Friday, September 20th, 2013 From 6pm-10pm
Lou La Vie
1444 Biscayne Blvd Suite 113
Miami, FL 33132.
Miami, the city known for it's sunny climate, attractive beaches, entertainment, beautiful people and international art fairs, is now getting ready for an inspiring cultural and art filled weekend during Downtown Art Days 2013 (www.dwntwnartdays.com). Celebrated pop artist and city local, Leonardo Hidalgo (www.leonardohidalgo.com) will present his new collection of paintings, Go With a Smile, a series of forty-eight visually striking large format paintings of superheroes, gangsters and icons, with the spotlight on Batman and the Joker. Lou La Vie, the only exotic car rental agency in the world to marry the concept of fine art and supercars, will unveil a unique art car designed by Hidalgo, with the collaboration of Warren Henry Auto Group, on the night of the opening, Friday, September 20, 2013 from 6pm-10pm.
"I am very excited to be part of this cultural weekend and to be able to present to the community a fun and memorable art experience alongside the Lou La Vie team." says artist Leonardo Hidalgo. "Designing the art car is a dream. Exotic cars are a piece of art in itself for their exceptional craftmanship and performance.  I had the vision to incorporate one of my superhero and villain paintings, to create the ultimate most action-packed driving machine."
On the night of the opening expect to see the most exotic cars in the world, in an urban-loft setting, paired with Hidalgo's masterpieces, highlighting a gigantic Joker sculptural painting, with music, tasting samples provided by Oceanaire, a hydration bar by Vita Coco, and flowing cocktails.