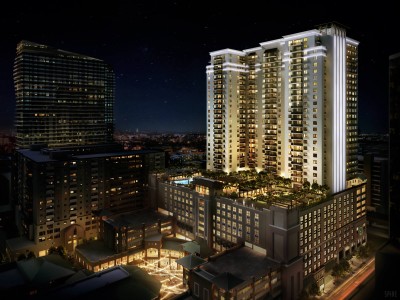 Nine At Mary Brickell Village Luxury Condominium Under Construction & Slated For May 2014 Completion
The first collaborative effort by industry powerhouses Starwood Capital Group and LYND; Sales led by Fortune International beginning Aug. 2013
MIAMI, FLA (August 2013) – Nine at Mary Brickell Village, a new luxury condominium located in the heart of Mary Brickell Village at 999 Southwest 1st Ave., will include 390 elegantly appointed residential units and rise 34 stories to overlook the neighborhood's culinary, nightlife and retail scene. Slated for completion in May 2014, Nine at Mary Brickell Village will be brought to life by industry powerhouses Starwood Capital Group and LYND, with sales led by Fortune International. Equity financing for the project is being provided by New York-based BlackRock, on behalf of an institutional investor.
"After a year of planning, we are excited to bring this project to market," says Michael Lynd, Jr., CEO & Chief Investment Officer of San Antonio-based real estate firm LYND, most recently credited for the highly successful EnV development in Chicago. "Our team is as strong as any in the country and we are excited for the opportunity to deliver a long-anticipated, first-class residential experience to the heart of Brickell. Mary Brickell Village is one of the most unique environments in the country, with its mixture of cultural, dining, shopping, nightlife, and fitness activities, as well as its proximity to mass transit. Our research indicates that these urban locations appeal to a wide variety of households with families, empty nesters, and young professionals choosing to live in this type of 24-hour atmosphere. This is the next generation of living."
"This is the perfect opportunity to create a premier luxury condominium that embodies the vibrant soul of Miami," says Ken O'Neill, Senior Vice President of Starwood Capital Group. "We are very excited to be partnered with this talented group of developers and investors with the common goal of creating an iconic residence for the thriving neighborhood of Mary Brickell Village."
Standing as the only residential tower in Mary Brickell Village, Nine will feature units starting from $300,000. There are 30 available floor plans for units, which will be sold in one-, two-, or three-bedroom formats, and ranging in size from 744 to more than 2,098 square feet (69 to 194 square meters). Residences will boast beautifully appointed kitchens with stainless steel appliances, 9- to 11 foot ceilings, quartz countertops and backsplashes, designer fixtures and hardware, oversized mirrors, spacious walk-in closets, and large soaking tubs.
Nine at Mary Brickell Village will offer a variety of social amenities, including: an expansive one-acre, lushly landscaped recreation deck with pavilions and intimate cabanas; media lounge; pool deck with heated resort-style swimming pool; fitness center equipped with a wide range of Precor equipment including cardio machines with integrated touchscreen televisions; and state-of-the-art videoconferencing room. The pet-friendly project will also include a dog run on the eleventh floor of the building. A secret Zen garden with tranquil landscaped walking paths, intimate seating areas and dining tables will also be featured on the building's eleventh floor in a one-acre private park dedicated to lounging, socializing and enjoying quiet moments alone. On-site security will be present, as well as concierge services that will include the arrangement of limo and town car transportation, housekeeping, laundry, dry cleaning, personal fitness trainers, poolside massage, and pet care. Covered parking and valet services will also be available.
Owners of Nine at Mary Brickell Village condominiums will enjoy use of the private Grand Bay Club of Key Biscayne, adding private beach club amenities to their already luxurious urban oasis. The Grand Bay Club offers a tropical retreat and access to exclusive oceanfront cabanas with service stations, a poolside tiki bar, a variety of swimming pools, and superb indoor and outdoor dining overlooking the Atlantic Ocean.
Nine at Mary Brickell Village will be adjacent to the upcoming Brickell CityCentre, a mixed-use complex co-developed by the owners of Bal Harbour Shops, which is expected to include nine acres of upper-tier and premium luxury shopping, restaurants and hotels. Residents of Nine will be offered a mix of nightlife and restaurant options. Nearby destinations include the Four Seasons Hotel, Viceroy, Cipriani, and Katsuya, located in the upcoming SLS Hotel. Elevators will whisk residents down to the epicenter of Mary Brickell Village's shops and restaurants such as Perricone's Marketplace, Rosa Mexicano and The Oceanaire Seafood Room, which complement other high-profile restaurants in a neighborhood that is currently experiencing phenomenal growth. Residences will be in walking distance to the Metrorail and Metromover Brickell station, and will have access to Publix Super Market and the L.A. Fitness health club, both located at the base of the building.
"Nine will deliver a unique residential lifestyle experience and, in today's competitive market, this development reflects a higher level never before seen in the lively Mary Brickell Village," says
Edgardo Defortuna, President and CEO of Fortune International which will launch sales in August 2013. "We expect the project to be extremely attractive to downtown professionals seeking a high-rise setting in the heart of Brickell and surrounded by authentic Miami attractions."
Behar Font & Associates, PA, is the architect of record and Nick Luaces Design Associates is the interior design firm.
For more information, please call (877) 675-3166, or visit: www.ninemiami.com.
About Starwood Capital Group
Co-Developer
Starwood Capital Group is a private, U.S.-based investment firm with a core focus on global real estate. Since the group's inception in 1991, the firm has raised more than $20 billion of equity capital and, through its various funds, has invested $16 billion representing more than $41 billion in assets. Starwood Capital Group currently has $26.3 billion of assets under management. Starwood Capital Group maintains offices in Greenwich, Atlanta, San Francisco, Washington, D.C., Los Angeles, Chicago and Miami, and affiliated offices in London, Luxembourg, Paris and Sao Paulo. Starwood Capital Group has invested in nearly every class of real estate on a global basis, including office, retail, residential, senior housing, golf, hotels, resorts and industrial assets. Starwood Capital Group and its affiliates have successfully executed an investment strategy that includes building enterprises around core real estate portfolios in both the private and public markets. www.starwoodcapital.com.
About LYND
Co-Developer
Established in 1980 and headquartered in San Antonio, with regional offices in Miami and Denver, LYND is a national real estate company that develops, manages, finances, and invests in multifamily, commercial, and hospitality properties. LYND's most recent development project, EnV, located in Chicago's trendy and energetic River North neighborhood, at the time, became its highest-grossing sale. With approximately 35,000 residential units under management, LYND is one of the largest multifamily management companies in the country. www.lyndworld.com.
About Fortune International
Sales and Marketing
Founded by Edgardo Defortuna, Fortune International has raised the bar in high-end real estate throughout South Florida since 1983. In its brokerage division, Fortune boasts more than 1,000 realtors and 11 offices from Key Biscayne to Weston, and numerous international affiliates. In addition, Fortune International is the developer's choice for exclusive on-site sales, having represented some of South Florida's most successful projects with thousands of sales to date. The name Fortune International is synonymous with excellence and an unwavering commitment to quality and customer service in the world of luxury real estate. www.fortune-network.com