"Expressions" presented by The Black Archives an evening of Spoken Word and Jazz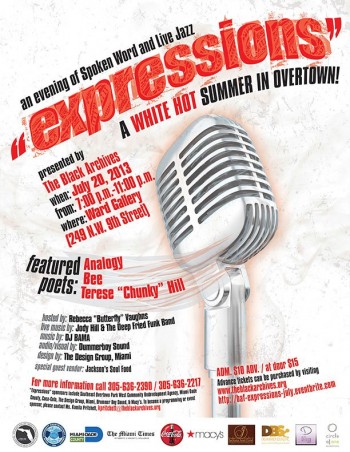 Saturday, July 20, 2013 from 7:00 PM to 11:00 PM
Historic Ward Cultural Tourist Gallery
249 Northwest 9th Street
Miami, FL 33136
Purchase Tickets Online
The Black Archives, History and Research Foundation of South Florida Inc. invites the Miami community and tourist to enjoy an evening of poetic expression, live jazz and neo-soul music as we celebrate a "White Hot Summer" in Overtown on Saturday, July 20, 2013 at The Historic Ward Rooming House Gallery, 249 NW 9th Street. The Ward Rooming House Gallery is sponsored in part by the Southeast Overtown/Park West Community Redevelopment Agency as a redevelopment activity pursuant to the approved Community Redevelopment Plan.
The inaugural event was held on April 13, 2013, which saw 200 attendees.
The July theme will be a "White Hot Summer" in Overtown. So come in your white outfits and summer cool wear. The "Expressions" event, co-sponsor The Design Group, Miami, will transform the Ward Gallery into an oasis of white as we celebrate the summer and our "2013" NBA Champions the Miami Heat. For the past three events The Design Group, Miami has transformed the Ward garden area into a stylish nightclub vibe with a cool, resort-like feel. Timothy A. Barber, executive Director stated, "We could not have done this event without The Design Group, I applaud the partnership and I look forward to all of our future collaborations."
Guests will again be treated to live music from the Jody Hill and the Deep Fried Funk Band and spoken word by featured artist. With the large space, guests to be able to enjoy the performances from whichever vantage point they choose.
The Black Archives History and Research Foundation of South Florida, Inc is a non-profit organization founded in 1977 by Dorothy Jenkins Fields, Ph.D. Dr. Fields with the mission to not only preserve the documentary and photographic history of black South Florida, but to enrich the present and protect the future through the revitalization Miami's former black business and entertainment district, Overtown. The Black Archives is sponsored by the SEOPW CRA, Miami Dade County, The Miami Times, & Macy's. For more information about Black Archives sponsored events or how to become a sponsor or make a donation, visit www.theblackarchives.org, email kpritchett@theblackarchives.org or call 305-636-2390.
Please note that this is an outdoor event. In the case of non-stop inclimate weather predictions, we will postponed the event until the following Saturday. All purchase are considered a donation to the Black Archives and know that your support increases the employment opportunities for Overtown residents.