Slava's Snowshow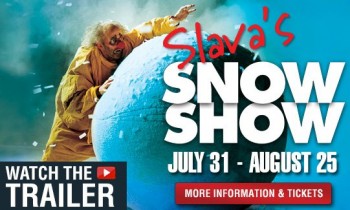 July 31 – August 25, 2013
Ziff Ballet Opera House
Adrienne Arsht Center for the Performing Arts
1300 Biscayne Boulevard
Miami, FL 33132
Buy Tickets Online
It's Snowtime in Miami! Following sold-out engagements in Buenos Aires, Mexico City , Barcelona, Madrid, London, New York and a record-breaking run at the Ziff Ballet Opera House five years ago, the internationally acclaimed SLAVA'S SNOWSHOW returns to Miami July 31– August 25!
A cross between Cirque du Soleil and Blue Man Group, this entertainment phenomenon takes audiences on an alluring 90-minute journey that is "pure magic…an evening of enchantment and fun!" (The Express) The breathtaking show created by Slava, the original Cirque du Soleil's clown genius, is an awesome theatrical experience and a profoundly moving spectacle full of vibrant wondrous images, delightful comedy, enchanting music and snow—lots and lots of snow!
Not recommended for children under 8 years old.