Official NBA and Miami Heat artwork by Erika King and Original Works by Larry Johnson Exhibit at Williams McCall Gallery
Saturday, 05/11/2013, 06:00 pm – 08:00 pm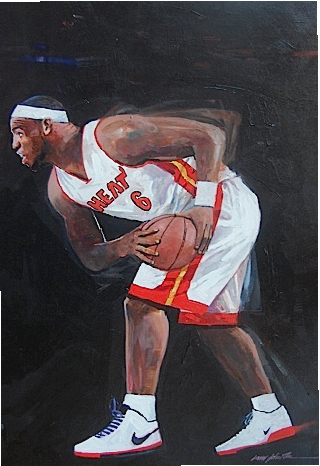 Williams McCall Gallery
110,
Miami Beach, Florida 33139
Webpage Link
In honor of the NBA Playoff season, the Williams McCall Gallery will exhibit the original works of sports illustrator and artist Larry Johnson and the official NBA and Miami Heat artwork of Erika King. Kicking off with an artist reception that is open to the public on Saturday, May 11th at 6 pm, the exhibit will run until May 25th.
Erika King is a Miami based artist known for her corporate, commemorative, sports and celebrity collages. Through 
photographs and paint, Ms. King creates histories and events 
into fine art in the form of collage on canvas. Her works are collected worldwide. King's corporate collages have been commissioned by American Express, Texaco, United Way, Anheuser-Busch, Blockbuster Entertainment, AT&T Wireless, and AIG among many other Fortune 500 companies. Her work can also be found in the private collections of numerous well-known sports, music and political figures.
For over thirty years, Larry Johnson was the Editorial Sports cartoonist for The Boston Globe, The National Sports Daily, ESPN's Quickie page and WEEI.com. Johnson's original work has been collected by such celebrity clients such as Oprah Winfrey and Vernon Jordan. Corporate clients include Pepsi-Cola, Hallmark and The National Football League. His work has been seen on The Cosby Show and the Fresh Prince of Bel Air.