Culture Shock Miami Presents Street Beat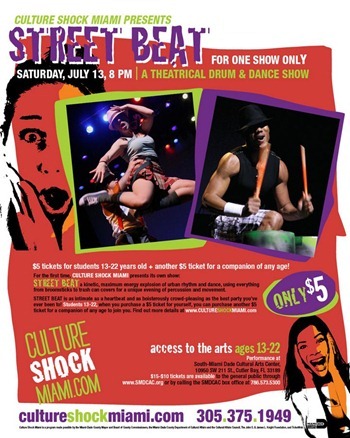 Saturday, July 13, 8pm (Mainstage)
South Miami-Dade Cultural Arts Center
10950 SW 211 Street
Cutler Bay, FL 33189
$5 for ages 13-22 available through www.CultureShockMiami.com
$15-$10 tickets for the general public available at www.smdcac.org
For the first time, Culture Shock Miami presents its own show: Street Beat!
It is a kinetic, maximum energy explosion of urban rhythm and dance, using everything from broomsticks to trash can covers for a unique evening of percussion and movement.
Street Beat is as intimate as a heartbeat and as boisterously crowd-pleasing as the best party you've ever been to!
Students 13-22, when you purchase a $5 ticket for yourself, you can purchase another $5 ticket for a companion of any age to join you.
Thank you for using Soul Of Miami!