Picnic in the Park at the Deering Estate
Sunday, April 21, 2013, 10:00 am to 4:00 pm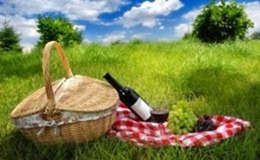 Deering Estate at Cutler
16701 SW 72 Avenue
Miami, FL 33157
Admission: $7 for all ages!
Free admission for Deering Estate Foundation Members & children under 4.
Spend a relaxing day with your family & friends at the Deering Estate and enjoy a picnic on the main lawn. Please note that grilling and cooking is not permitted on the Estate.
There will be a Human Chess Match hosted by Door to the Arts, Inc. & St. John Neumann Catholic School at 2:00 pm in the Courtyard. Watch as a chess match comes alive! Students dressed in full costume will make their grand entrance and take their positions  on the life-size chess board. Players will call out moves from an adjoining table causing the corresponding live chess pieces to move, and the amazine battle of skill & strategy begins!
 
Chef David Schwadron Catering and Joanna's Marketplace are the official picnic providers for the Deering Estate at Cutler and can be contacted directly for preordered meals. Preordered meals are available for delivery to the Estate or for pick-up. Please call 305-238-5881 for Chef David Schwadron Catering and 305-661-5777 for Joanna's Marketplace.
"Picnic in the Park" activities include:
Old Fashion lawn games;
Historic House Tours at 10:30 am & 3:00 pm;
Natural Areas Tour at 12:30 pm;
Human Chess Match hosted by Door to the Arts, Inc. & St. John Neumann Catholic School at 2:00 pm in the Courtyard;
Spring Photography Exhibit featuring Patricia Gonzalez-Osorio, Antonia Wright & Marina Font