Dynamo Art Cocowalk Global Series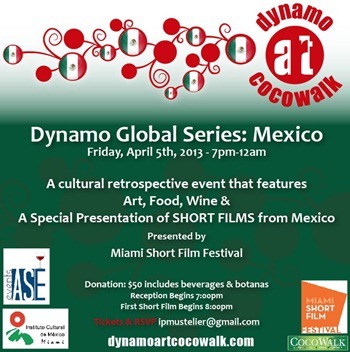 Friday, April 5, 2012, 7pm-12am
Dynamo Art Cocowalk (at CocoWalk Marketplace)
3015 Grand Ave. 4th floor
Miami, Fl 33133
dynamoartcocowalk.com
Dynamo Art Cocowalk, the trendiest art gallery, multi-purpose design venue in Miami is proud to announce one of their most exciting and culturally diverse programs to start this coming April: The Dynamo Global Series
This program features every first Friday of the month a different country showcasing its typical food, beverages, art, and award winning short films. The first country of this Global Series will be dedicated to MEXICO!
The first of the series will be held on Friday, April 5th at Dynamo Art Cocowalk….the program will  start at 7pm with beer and wine, and some Mexican tid-bits , and at 8pm the first short film (sub-titled) will be shown followed by more food and drink , more short films, and continue all the way until 11pm. The night will end at midnight with an opportunity to toast a wonderful evening with new and existing friends and ready for the next event to be held in May and dedicated to Italy.
Films shown in conjunction with the Miami Short Film Festival.