Mi Casa Holiday Season Kick-off in association with Masters of the Mix
Sunday, 03/17/2013, 10:00 pm – 05:00 am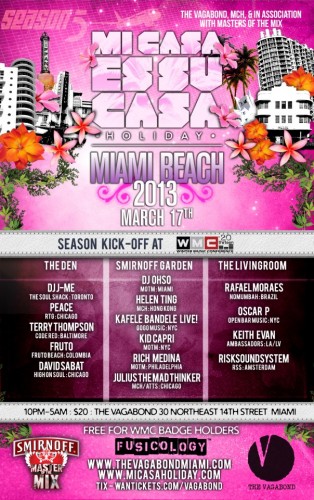 The Vagabond
30 NE 14 Street,
Miami, Florida 33132
Facebook Link
[Description]
WMC + MMW 2013
– – – – – – – – – – – – – – –
The Vagabond, MCH in association
with Masters of the Mix
present
MI CASA HOLIDAY KICK-OFF
MARCH 17, 2013
SEASON 5
Time for the MCH Experience!
Help kick-off the first of nine MCH destination music events and celebrate the Season 3 premiere of
Smirnoff's Masters of the Mix(VH1) @ The Vagabond.
One place to be
One place to see
One night with lots of love…
One special night where Mi Casa Es Su Casa.
…Get ready!
Due to capacity, early arrival is highly recommended!
Presale tix – http://wantickets.com/vagabond
The Vagabond
30 NE 14th St. Miami Florida 33132
10pm – 5am
http://thevagabondmiami.com/
**LINE UP**
The Den:
10:00pm – DJ J-ME (Toronto)
11:30pm – peacE (Chicago)
12:45am – Terry Thompson (Baltimore)
2:00am – Fruto (Bogata, Colombia)
3:20am – David Sabat (Chicago)
Smirnoff Garden:
10:30pm – Oh So (Miami)
11:30am – Helen Ting (Hong Kong)
12:30am – Kafele Bandele live! (NYC)
12:40am – Kid Capri (NYC)
1:40am – Rich Medina (Philadelphia)
3:00am – Julius the Mad Thinker (Chicago)
The Living Room:
12:00am – Rafael Moraes (Sao Paulo, Brazil)
1:15am – Oscar P (NYC)
2:15am – Keith Evan (LA/LV)
3:30am – RiskSoundSystem (Amsterdam)
**HOSTESSES**
Jenn Hurst / Sandra Garcia / Nina Ananse / Carmela Lina / Jessica Poche / Mona "the Fabulous"
**ABOUT**
MI CASA HOLIDAY
Miami | Tamarindo, Cr | San Francisco | Los Angeles | Chicago | New York | Mexico City | Las Vegas | Miami
SEASON FINALE – Playa del Carmen, Mx Oct. 10-13 2013
In 2009, Jenn Hurst and Julius Spates bridged dj entertainment
with unique travel concepts to form Mi Casa Es Su Casa Holiday(MCH)
Envision many magical moments supported by a fully engaged, amazing MCH Community.
In 2012, MCH achieved "sold-out" status.
Be a part of the experience!
boutique . lifestyle . music . holiday
www.micasaholiday.com
SMIRNAOFF'S MASTERS OF THE MIX
SEASON 3 PREMIERE
TUNE IN APRIL 1ST ON VH1
Season 1 challenged eight of America's best DJs in high-pressure competitions, and ended in London where the finalists showed that they could make the party happen anywhere in the world.
Season 2 rocked the U.S. nightlife scene, as more than a million viewers tuned in each week to checkout the showcase of skill, technique, and DJ Culture.
Season 3 will be the biggest season yet as the competition is on! The pressure is turned up high this time around as the contestants will live together, match wits with celebrities and perform at the hottest parties on TV. The winner will receive a $250,000.00 cash prize and a one-year reign as Master of the Mix for Smirnoff.
www.bet.com/shows/master-of-the-mix