A Valentine's Eve Sneak Peek at Sweet Saloon Dessert Bar and Lounge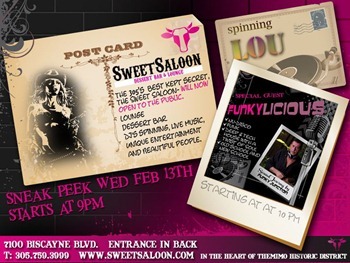 Wednesday February. 13th 2013.  9pm
The Sweet Saloon at  Moonchine
7100 Biscayne Blvd
Miami
The 305's best kept secret "The Sweet Saloon Dessert Bar & Lounge" will now be open to the general public.
 
The Sweet Saloon is housed in Moonchine's mezzanine in the heart of the MiMo Historic District. Entrance in the rear.  This unique combination lounge and dessert bar is the perfect fusion of Dj's spinning, Live music, Unique entertainment and Beautiful people.
 
We invite you to join us and experience the sounds of our special guest Funky Junction spinning his Funkylicious sounds.  Funkylicious is a combination of Disco, Rock, Funk , 80's and Minimal Tech, a perfect eclectic mix of rhythmical sounds. 
 
The saloons menu is perfect for those seeking after hour munchies.  Here food and drink aficionados are offered an array of sweet, salty, and spicy delicacies.  
 
If you are wondering if this main-stream saloon is for the sweet or the spicy, we suggest you check it out for yourself.   
 
Chic, yet Casual, Exclusive, yet Inviting, Sophisticated, yet Simple,  The Sweet Saloon is all that and more!
 
The Sweet Saloon will be open this Wednesday for the Sneak Peek and every Wednesday for an Industry Night including Saturdays starting February 16th.  Stay tuned for the launch of  the weekly events calendar beginning in March with a live music roster on Thursdays and Fridays.