'for artists…By Artists' presents 2nd Sundays Wynwood Series in association with Carol Jazzar Contemporary Art. Kuhl & Leyton
Sunday, 02/10/2013, 07:00 am –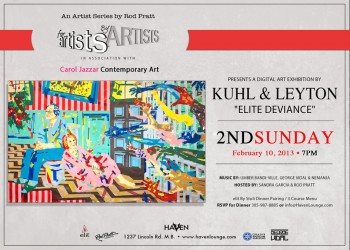 HaVen Lounge
1237 Lincoln Road,
Miami Beach, Florida 33139
Facebook Link
Join us for our 2nd Sundays Wynwood Series in association with Carol Jazzar Contemporary Art. Kuhl & Leyton will be exhibiting their series titled "ELITE DEVIANCE"
The objective of 'for artists……BY ARTISTS' (www.facebook.com/forartistsByArtists) is to create a social colony for artists from all disciplines of the arts with the focal point being on painters, photographers, designers and sculptors. Utilization of the technology at Haven and maximizing its potential is what sets this weekly exhibition apart from others.
About Brad Kuhl & Monique Leyton, who are Miami-born artists. They divide their time between Beijing, China and America.
CREATION:
Initial concept to finished piece / Working together
The focus of our work for the past ten years has been related to crime. We get many of our initial ideas by reading the news or watching the news either online or on the television. We pay attention to trends in the media and if we choose a topic to explore the initial stages are similar to research. This can entail reading books about a topic, watching interviews, movies and looking at relevant websites. As we research imagery begins to develop mentally. We constantly talk about our research and share ideas as we are working on an initial concept.
The next stage involves choosing an idea for a specific piece for a series. This stage includes additional research related to a specific topic. With our more recent work we use this to generate a mental image of what the scene might have looked like. We then download imagery from the Internet that fits our idea and convert this collage into a drawing.
Once we have a completed sketch we create a palette of our available colors and decide the colors for the major elements in the composition much like a paint-by-numbers sketch. We usually take turns picking colors at this point. After this we use a projector to project our sketch onto a sheet of paper and develop the layers of tape using the sketch as our guide. We do almost all of the work together and constantly step back to evaluate each other and implement "a switch" whereby we have to move to a new area of the piece.
The development of our work is always as a team, from beginning to end.
INSPIRATION:
"Elite Deviance" Series
Our inspiration for this series were as much a reaction to our past works as it was a reaction to a certain economic and political climate in America. Before creating this series our work had primarily focused on violence, but our interested can be more broadly described as crime. To expand what our work was about we decided to tackle non-violent crime. The pale political climate, talk of the "1 percent", and numerous missteps that were costing both people and businesses unprecedented amounts of money paved the way for a series about white-collar crime.
White-collar crime appealed to us also because it questions the stereotype of who a criminal is. The canon of crime as seen on TV is often of a certain kind and committed by a certain racial or economic class. We were inspired by the question of why a wealthy and often upstanding citizen would commit such a crime. How do you punish a crime of this nature and of this scale?
WORK SELECTION MEDIUM
Bookbinding & Acrylic Tape
We discovered tape as a medium of creation while living in Rome as exchange students at Cornell University. We were drawn to their vibrant colors when living abroad because they reminded us of Miami. The medium informed our decision to make work about crime. As individuals neither of us were ever very comfortable with the idea of painting and in part using tape was a reaction to that. Tape allowed us to borrow from elements of painting while bringing in questions concerning drawing and collage. We've since expanded our palate to include bookbinding tape. We use the opaque nature of bookbinding tape to ground the acrylic tape.
THE BEGINNING
Meeting and the start of the work relationship
We met each other while studying art together at Design and Architecture Senior High School. We quickly become best friends of the inseparable nature. We continued our studies together at Cornell University. Increasingly our ideas became shared and the notion of which idea was whose became not only difficult to answer but trivial as well. Under this pretense, we began working together for the first time in our third year of university while living in Rome. Working together seemed a natural evolution in a dialogue that had become two parts of a whole. Our personalities are practically polar opposites and we have very different aesthetic leanings but it has been the differences that have held us together.
_______________________________________________________
Resident Music Composers:
UMBER BANDI -VILLE / GEORGE VIDAL / NEMANJA
_______________________________________________________
ENJOY OUR ARTISTS DINNER SPECIAL PAIRING MENU BY
elit By Stoli…
Dinner Reservations are highly recommended for this event.
elit by Stoli Dinner Pairing/Menu
$40 (Tax and gratuity not included)
RSVP for Dinner: 305.987.8885 or info@havenLounge.com
Mixology by Isaac Grillo
Culinary Cuisine prepared by Chef Todd Erickson
elit by STOLI…Cocktail Creations by Mixologist Isaac Grillo
HOSTED BY: SANDRA GARCIA, ROD PRATT
PROJECTION DESIGN BY: Ricardo Agudelo
CURATED BY: ROD PRATT