2013 Business Expo Trade Show
Thursday, 03/07/2013, 03:00 pm – 08:00 pm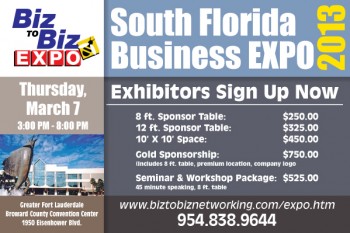 Fort Lauderdale / Broward Convention Center
1950 Eisenhower Blvd. ,
Fort Lauderdale, Florida 33316
Webpage Link
Showcase your business at the Largest Expo of the year. Spring Business Expo 2013 at the Greater Fort Lauderdale/Broward Convention Center on Thursday, March 7th. It has been Super Sized for more space, more exhibitors, more seminars with over 35,000 Sq.Ft. Sign up your business today. Go big or go small – opportunities for all at the Biz To Biz Business Expo. Exhibitor Spaces starting at $175.00.
For more information call 954-838-9644.
Thank you for using Soul Of Miami!