Prodigy Pianist Comes of Age – Sijing Ye to Perform at Miami International Piano Festival's Classical Sundays at Five
Sunday, 02/03/2013, 05:00 pm – 08:00 pm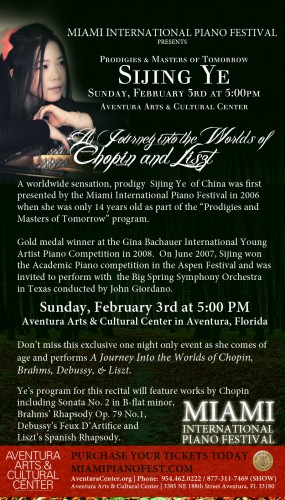 Aventura Arts & Cultural Center
3385 NE 188th Street ,
Aventura, Florida 33180
Webpage Link
Miami, FL (January 24, 2013) The third in a series of classical piano concerts presented by the Miami International Piano Festival, "Four Classical Sundays at Five" will feature Sijing Ye of China on Sunday, February 3 at Aventura Arts & Cultural Center in Aventura, FL at 5 P.M.
About the Four Classical Sundays at Five Concerts
The Miami International Piano Festival has created the Four Classical Sundays at Five series as an addition to its regular season of programming. These intimate, classical, salon-style piano recitals are presented at the beautiful, new Aventura Arts & Cultural Center and feature some of the most renowned artists from around the globe. In an effort to revitalize the tradition of the salon concerts of the 19th century, each artist is invited to break the barrier between artist and audience by revealing their insights and thoughts about the repertoire, the composers and their fascinating interpretations. This creates a level of intimacy between performer and spectator that is not typical at more conventional recitals. A post-recital Meet-the-Artist reception allows audience and performers to get to know one another even further.