Third Avenue Art District Annual Art Walk
Saturday, 02/02/2013, 06:00 pm – 10:00 pm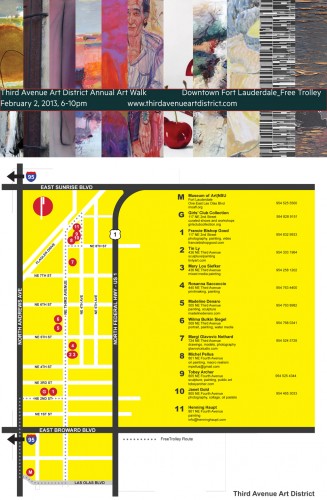 Third Avenue Art District
NE Third Avenue between 2nd and 8th Street,
Fort Lauderdale, Florida FL
Webpage Link
As is the tradition on the first Saturday in February, the Third Avenue artists open their studios at no charge to the public. The next Annual ArtWalk is scheduled for Saturday, February 2, 2013 from 6-10pm.
The studios are located north of Broward Boulevard, on and around NE Third Avenue. There is free street parking along NE Third Avenue and throughout the area. One can walk to several of the studios or hop on the free trolley service. The trolley will circulate between the venues all evening and stop at each one.
If you are looking where to start, there are several options: just come between the four and five hundred block of NE Third Avenue (you can check the map on this site) or start at the museum of art, where there is ample downtown parking and hop on the trolley, or there is a public parking building next to (east of) City Hall on 2nd and 1st Street between 3rd Avenue and Andrews Ave.
There will be twinkle lights and banners and trolley stop signage at all locations. So come join us for a fun evening, meet the artists, talk about their work and about art in general. Maybe even add or start a collection of your own.