Classical Music Meets Contemporary Dance
Sunday, 02/03/2013, 03:00 pm – 04:30 pm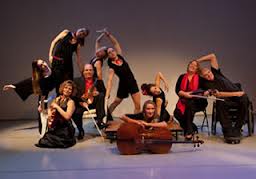 Pinecrest Gardens, Banyan Bowl Amphitheater
11000 SW 57th Avenue,
Miami, Florida 33156
Webpage Link
Karen Peterson and Dancers at Pinecrest Gardens with Crosstown String Quartet and Miami String Project
Karen Peterson and Dancers, renown as the nation's premier mixed-abilities dance company in the southeast, will perform live with the Crosstown String Quartet and The Miami String Project at the historic Pinecrest Gardens Banyan Bowl amphitheater.
The dance company's Senior Dancers will perform alongside the Crosstown String Quartet. The Youth Dancers (ages 15-22 and also of mixed abilities) will perform with the young musicians of the Miami String Project (ages 12-19).
"I am thrilled to present my new choreography with the Crosstown String Quartet and the Miami String Project at this beautiful setting," said founder and Creative Director Karen Peterson. "This gives our audiences the opportunity to view our premiere collaborations of live dance and classical music. These crossover performances provide a glimpse into the ever-changing possibilities of mixed-abilities dance, and demonstrate how we strive to continue to push boundaries."
Saturday, February 2nd, 8:00 p.m. (link for tickets online)
Sunday, February 3rd, 3:00 p.m. (link for tickets online)