Taste of Brickell Food & Wine Festival Pre-Party Kick Off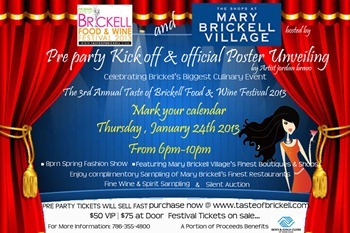 Thursday, January 24, 2013 Time: 6pm to 10pm (Fashion Show starts at 8pm)
Mary Brickell Village (First Level behind Toscana Divino)
901 South Miami Avenue
Miami, FL
Cost: $50.00 VIP purchase on site now at www.tasteofbrickell.com  or $75.00 at the door. For more information call 786-355-4800 or 305-200-8892
3rd Annual Taste Of Brickell Food & Wine Kick-Off Pre-Party At Mary Brickell Village Fuses Food, Wine And Spring Fashions Unveiling Of Official Festival Poster By Artist, Jordon Bravo
Miami Taste of Brickell Food and Wine Festival will celebrate a pre-party kick-off at Mary Brickell Village featuring delectable food, wine and liquor samples, as well as a Brickell-themed runway fashion show. In addition we will unveil our official festival poster by local Artist, Jordon Bravo.
Held on the first floor of Mary Brickell Village, the event will bring together some of Brickell's finest and emerging restaurants. You will sample delicious food from: Brother Jimmy's BBQ, Oceanaire Seafood Room, Taverna Opa, Balans, Toscana Divino, Rosa Mexicano, The Tapas Experience and many others.  Guest's will be treated to a tasting of fine wines and champagne courtesy of The Tapas Experience, Complimentary cocktails from "The Rums of Puerto Rico", Blue Martini and other Sponsors. Also, non-alcoholic beverages from Fiji Water and other beverage sponsors will be on hand.  Also, enjoy a relaxing chair massage while at the event courtesy of Massage Envy Spa Brickell.
In true Brickell style, the Taste of Brickell Pre-Party also combines high fashion with "wild" guests. The evening will feature a runway fashion show courtesy of several of Mary Brickell Village's chic boutiques and shops, but perhaps the most exciting part of the event will be the unveiling of our official poster by, Artist, Jordon Bravo. In addition a silent auction will be on site with lots of great items to bid on from local businesses.
"There's no other area that compares to the vibe of Brickell. The pre-party really showcases what this burgeoning neighborhood is all about," said Cynthia Bettner, festival producer and director. "Best of all, we were able to support the Boys & Girls Club of Miami Dade through event proceeds and promoting their initiatives in front of hundreds of people."
The 2013 Miami Taste of Brickell Food and Wine Festival will be held on March 23 and 24, 2013 in the heart of Brickell at the Miami Circle next to The Viceroy Hotel and will feature cuisine from over 40 local restaurants, an exclusive VIP experience. Tickets are on sale now.