Miguel Paredes Lincoln Road Pop-Up Location Launch Party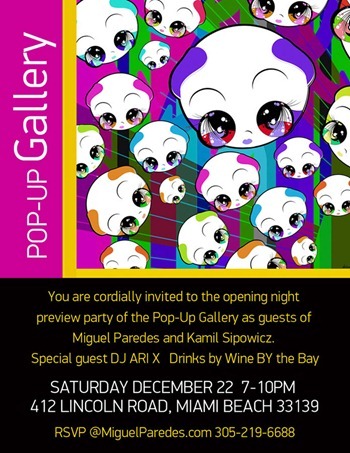 Saturday, December 22, 2012, 7-10pm
412 Lincoln Road
Miami Beach
Miguel Paredes Pop-Up Gallery Post Basel Party
Just in time to distract you from last minute shopping and Holiday party hoping on Lincoln Road, local Miami Artist Miguel Paredes, known for his famous Art Basel and Art Walk parties in Wynwood will be putting on yet another bash on Miami Beach alongside top computer and computer product retailer, Tiger Direct. The night will pulse with beats by DJ.WWWW and there will be drinks flowing from 7-10pm.
 
The pop-up gallery will highlight exciting new work from Miquel Paredes including his "Culture in a Bag" and "New Used & Abused" collections as well as work by Kamil S., a Contemporary artist from Warsaw, Poland that explores and twists many philosophical tenets in his artwork.
 
The gallery on Lincoln Road will display work from both artists that will be for sale along with smaller retail items from Paredes including posters, coffee mugs, journals, etc. The space will be open on Christmas Eve as well as New Years Eve for tourists or locals to stop by and/or pick up last minute gifts.