Day After Tomorrow Project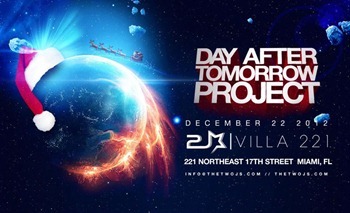 Saturday, December 22, 2:00 p.m. to 11:00 p.m.
Villa 221
221 NE 17th Street
Miami, FL 33132
Presale tickets starting at $20 before December 15!
www.wanttickets.com/DAT
Day After Tomorrow Project Aims to Celebrate Life, Music and Charity at their First Annual Event Benefiting Toys for Tots on December 22, 2012 in a Holiday Day + Night Festival Boasting Twenty Musical Acts
 
Mayans predicted the world would end on December 21, 2012. However, the Day After Tomorrow Project, produced by Two J's, predicts we will live to see the end of a myth and the beginning of a new yearly holiday tradition. The Toys for Tots benefit event taking place on Saturday, December 22, 2012 at Villa 221 will celebrate life with live music, celebrity DJ sets, holiday-inspired costume contests, food and drinks in a day-long festive environment kicking off at 2 p.m. and going strong through the night.
 
Guests will enjoy DJ sets by the electronic duo, The White Panda as well as moombathon duo direct from NYC, Sazon Booya. The impressive lineup includes tweny acts including Miami's own Problem Kids who recently opened for Rakim's Miami show and are quickly becoming hip-hop heavy hitters.
 
All guests are asked to bring an unwrapped toy for Toys for Tots to receive a free drink as part of the toy drive initiative. In addition, sponsors such as Shots Miami will offer complimentary shots from 2 to 4 p.m. Nestor Miranda Collection will also provide complimentary cigars from 2 to 6 p.m. and Alessandro Martino will be snapping group pictures for all to take home as an event souvenir. The electronic dance party will kick into high gear after sundown with glow accessories provided by N&K Designs.