Cannonball Residency Open Studios
Friday, 12/07/2012, 09:00 am – 01:00 pm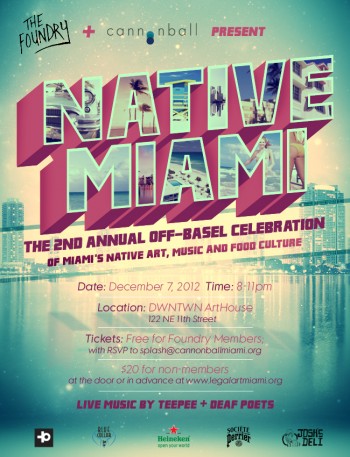 Cannonball (formerly LegalArt)
Cannonball (formerly LegalArt),
Miami, Florida 33136
Webpage Link
The Foundry & Cannonball Present:
Native Miami
The 2nd Annual Off-Basel Celebration of Miami's Native Art, Music, and Food Culture
December 7, 2012 8-11pm
At DWNTWN ArtHouse, 122 NE 11th Street, Miami, FL
Live Music by Teepee and Deaf Poets.
Food provided by Josh's Deli, and Blue Collar
Bar sponsored by Heineken and Societe Perrier.
Tickets are Free for Foundry Members, with RSVP to splash@cannonballmiami.org
or $20 for non-members.