Peace On E(ART)H Fundraising Event and Art Exhibition to Benefit Planting Peace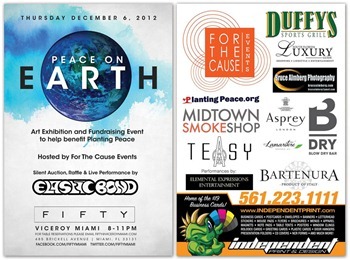 Thursday December 6th, 2012 from 8-11pm.
FIFTY Ultra Lounge at the Viceroy Hotel Miami.
485 Brickell Avenue
Miami, FL 33131
The $10 admission includes a complimentary cocktail and a raffle ticket.
Tickets may be purchased online
21+
www.plantingpeace.org
For The Cause Events is hosting the Peace On E(ART)H fundraising event to benefit the nonprofit organization Planting Peace. The event will take place during Art Basel.
The event will be hosted by Serena ChaCha, contestant on the upcoming season of RuPaul's Drag Race, and will consist of a silent auction, raffle, artistic dance performance by Elemental Expressions Entertainment and live music by Elastic Bond. Special guest, Diego Val, from this season's The Voice will also be lending his support to this important cause.
There will be an art exhibition and silent auction of pieces by artists who will be donating a percentage of the sales during the event to Planting Peace. Participating artists include Rubem Robierb, Alex Yanes, Alan Feldmesser, David Lavernia, Thang Dao, Gabriela McAdams, Marina Gonella, Ingrid Mathurin, Edward Oliveira, Anica Shpilberg, Ricardo Serpa, Sean Murdock, and Nathan Ranelli. Product Sponsors include Asprey, Lamaritere, Teavana,Kiehls, TEASY, Nina Stones, Follow Your Bliss Jewelry, Grand Luxe Café, Bdry Blow Dry Bar, Duffy's Sports Grille, and many more.
The funds raised will go directly to Planting Peace's "Stomp the Worm" project, which is a program set forth to provide de-worming medications to poverty stricken areas of the world.
The goal is to help raise funds for 1 million de-worming vaccinations for children living in Central and South America. Every $1.00 raised will help de-worm 50 children.