Ink Miami 2012: Modern & Contemporary Works on Paper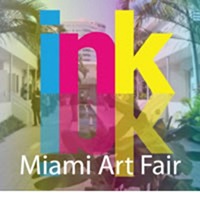 December 5-9, 2012
The Suites of Dorchester
1850 Collins Avenue (at 19th Street)
Miami Beach, FL 33139
¡Desayuno Cubano! December 5, 10:00 am
Pulp Party: December 6, 5:30–7:30 pm
Wednesday: 10:00 am–5:00 pm
Thursday, Friday, Saturday: 10:00 am–7:00 pm
Sunday: 10:00 am–3:00 pm
Premier Sponsor: XL Insurance.
Presented by the International Fine Print Dealers Association [IFPDA].
INK Miami Art Fair opens on Wednesday, December 5 at 10:00 am with ¡Desayuno Cubano! at the Suites of Dorchester, just two blocks from the Miami Beach Convention Center. New this year, the Fair plans to serve café con leche and Cuban pastries beginning at 10:00 am on Thursday, Friday, and Saturday to encourage collectors to take advantage of the Fair's sunny courtyard setting and start their day at Ink Miami.
New This Year! Scope Expands to include Modern Masters
Grounding its established focus on post-war contemporary masters and the newest contemporary editions, the Fair now includes dealers specializing in modern works on paper. To represent this area, the Fair has added Leslie Sacks Fine Art (Los Angeles) and Susan Teller Gallery (New York). Sacks will offer works by Pablo Picasso, Henri Matisse, and Marc Chagall in addition to post-war works by David Hockney, Richard Diebenkorn, and Ed Ruscha. Susan Teller will present a focused exhibition of mid-twentieth century American printmakers entitled Peggy Bacon & Her Circle featuring works by Bacon, Isabel Bishop, Minna Citron, Wanda Gág, Reginald Marsh, Anne Ryan and Marguerite Zorach. Also presenting American mid-century modern prints is Dolan Maxwell (Philadelphia), with works by Judith Rothschild, Benton Spruance, and Dox Thrash. Marlborough Graphics (New York) will also feature excellent examples from its vast holdings in European modern masters in addition to Francis Bacon, Chakaia Booker, Richard Estes, and Manolo Valdes.
Post-war Contemporary Masters
Aaron Galleries (Chicago), another new exhibitor, will augment the Fair's strength in contemporary masterworks with works by Willem deKooning, Wayne Thiebaud, and Kenneth Noland. Singular works by Gerhard Richter, Sol Lewitt, and Robert Rauschenberg will be on offer at Dranoff Fine Art (New York) and Carl Solway Gallery (Cincinnati) will show multiples, trial proofs, and unique works by John Cage, Merce Cunningham, Ann Hamilton, and Frank Stella.
Late twentieth century contemporary
A series of photographic portraits from the late 1990s by Chicago-born and New York-based artist Rashid Johnson will be a highlight at Aaron Galleries. The artist's major solo exhibition, "Message to Our Folks" was on view at the Miami Art Museum this fall. Dolan/Maxwell will showcase prints and works on paper by Steven Ford, Ryan Parker, and Cheryl Warrick. The Verne Collection (Cleveland), with its special emphasis on rarely-seen contemporary Japanese artists and American artists working in Japan, will exhibit works by Daniel Kelly and Hiroshi Yoshida.
New Editions by Contemporary and emerging Artists
Another new exhibitor, Childs Gallery (Boston), will highlight new works by emerging and mid-career contemporary Cuban artists fresh from this year's Havana Biennial. These artists are noteworthy for their commitment to using traditional printmaking as their preferred medium for exploring socio-political issues.
The Fair's contemporary editions publishers will offer collectors the opportunity to acquire fresh new projects before they are scooped up by major galleries. These include works by Sean Scully, Suzanne Caporael, and Cameron Johnson at Tandem Press. Florida's own Graphicstudio/U.S.F. will present print and sculptural editions by Christian Marclay, Alex Katz, E.V. Day, and Carlos Garaicoa. Mixografía® (Los Angeles) will present a one-man show of six new editions by John Baldessari. New editions by Martin Puryear, Isca Greenfield-Sanders, and Gary Simmons will come from the Berkeley-based print workshop, Paulson Bott Press. Stoney Road Press (Dublin) widens the Fair's roster of contemporary artists with new editions by Irish artists Brian O'doherty, Dorothy Cross, and William Crozier. Tamarind Institute (Albuquerque), a new addition to the Fair, will offer prints by Tony Delap, James Siena, Alison Saar and Nicola Lopez.
INK Miami receives sponsorship for the annual Pulp Party from XL Insurance. XL Insurance specializes in Property, Casualty, Professional and Specialty insurance for large corporations and middle market companies.