The "downtown FULL MOON party" – Friday November 30th at VILLA 221
Friday, 11/30/2012, 08:00 pm – 03:00 am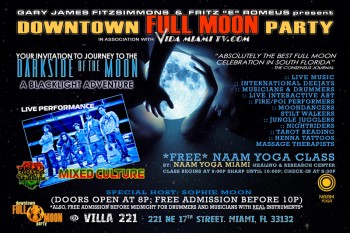 Villa 221
221 NE 17th Street,
Miami, Florida 33132
Facebook Link
Fritz "e" Romeus & Gary James Fitzsimmons present
the "downtown FULL MOON party"
in association with VIDA MIAMI TV.COM
"DARKSIDE OF THE MOON"
(A Blacklight Experience)
Friday November 30, 2012
From 8p – 3a
@ VILLA 221
221 NE 17th Street – Miami, FL 33132
_________________________________________
** THE "DOWNTOWN FULL MOON PARTY" IS VOTED THE BEST MONTHLY FULL MOON CELEBRATION IN SOUTH FLORIDA **
This month, we invite you to explore the infinity of possibility as we journey to the Dark Side of the Moon…
**Free** Admission before 10pm
Cover Charge after 10pm: $10 before midnight; $15 after)
**Free** Admission before midnight for all drummers, musicians, and performers with proper equipment and gear; at the discretion of the door staff…
FEATURING:
Live Band: MIXED CULTURE
Special Live Music Performance: WARP9
Resident Deejay: UMBER BANDI-VILLE
Guest Deejay: DJ DIAGA
Live Art: ID ART MIAMI
Reflections: SOPHIE MOON
Drum Leader: RENZO VARGA
Fire Performances: Need To Burn; The Florida Fire Collective; Fire By The Palm (All other professional talents are welcomed!)
Hula Hoopers: Bring your own or buy one at the event…
COMMUNITY ART WALL
We do have a bit of a surprise for everyone who would like to participate and express their artistic talent on our Interactive Art Wall… Of course, you would need to attend the event to see it!
FREE NAAM YOGA CLASS (9 – 10P)
Instructor EUGENE from NAAM YOGA MIAMI (www.naamyogamiami.org) will be offering a **free** Naam Yoga class at the start of the party (from 9 – 10p). If you would like to participate, you must arrive before 8:45pm…
Naam Yoga Miami (NYM) is a 501(c)(3) Non-Profit organization dedicated to health and wellness, with a focus on spirituality. Their mission is to serve and uplift the community through self-healing techniques to keep the mind sharp, the body healthy and the spirit high; They provide a "school for life."
DRUM CIRCLE:
Bring your drum and let your beats be heard! The Extended Drumming set will start sometime after 10p – until… Come early to enjoy as much of this as possible.
Dresscode (Strongly Recommended):
Wear light color; preferably white or glow in the dark fabrics…
Hosted By: Fritz "e" Romeus, Gary James Fitzsimmons; Tracie Samara; Sol Amor, and Sophie Moon
Please stay tuned as we will be adding more activities, talents, and performances to the program as we get closer the actual event date.