Miami Mix 2012
Saturday, 11/10/2012, 06:00 pm – 11:00 pm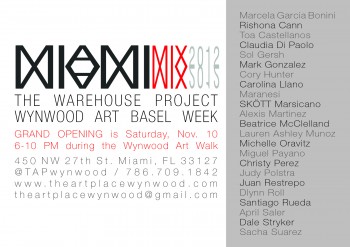 Wynwood Warehouse Project
450 NW 27th St.,
Miami, Florida 33127
Webpage Link
MIAMI MIX 2012 at the THE WAREHOUSE PROJECT
The Art Place Wynwood, presents Miami Mix 2012 opening in their second location THE
WAREHOUSE PROJECT. Opening Reception is Saturday Nov. 10 , 6-10 PM during the
Wynwood Art Walk. The Exhibition will run from Nov. 10 – Dec. 10, 2012.
The Art Place Wynwood is thrilled to announce the Grand Opening of THE WAREHOUSE
PROJECT! After 4 years on NW 2nd Avenue we have acquired a 7300 square foot warehouse
in the Heart of Wynwood. This is our second location, we are NOT moving, we are growing!
Now with two locations we can continue to provide a multitude of opportunities to local and
international artists. Join us next second Saturday to witness the launching of Miami Mix 2012,
our artist showcase for ART BASEL WEEK!
We will also have a live musical performance by ANIMAL SPOUSE a licenced Massage therapist and Becks Beer!
THE WAREHOUSE PROJECT
450 NW 27th St. Miami, FL 33127
ARTISTS
Marcela Garcia Bonini / Rishona Cann / Toa Castellanos / Claudia Di Paolo / Sol Gersh / Mark Gonzalez
/ Cory Hunter / Carolina Llano / Maranesi / Scott Marsicano / Alexis Martinez / Beatrice
McClelland / Lauren Ashley Munoz / Michelle Oravitz / Miguel Payano / Christy Perez / Judy
Polstra / Juan Restrepo / Dlynn Roll / Santiago Rueda / April Saler / Dale Stryker / Sacha Suarez