2nd Annual Water Party MIA
Saturday, November 3rd, 2012, 9pm to 12pm
Cafeina Wynwood Lounge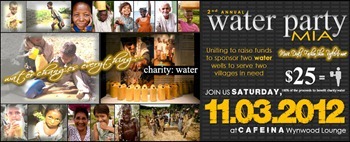 297 NW 23rd Street
Miami, FL 33127
Tickets for the event are $25 in advance ($30 at the door) … to purchase tickets please click on the following link:
mycharitywater.org/water-party-mia-2012
GOAL: To raise +$10K to sponsor at least TWO FRESH CLEAN WATER WELLS for two villages in need
Click on the donate button and fill out the payment form, please keep in mind minimum donation amount for party entrance is $25 per ticket in advance.
If you cannot attend but still wish to join/contribute to our efforts, please feel free to click on the link and donate, too!
Please feel free to invite your family and friends. Together, we can make a difference in the global water crisis; every little bit counts!
JOIN US as we unite to raise enough funds to build at least two water wells for two impoverished villages in need!
100% of the events proceeds will benefit the non-profit charity:water.
Thanks to the generosity of our sponsors you'll enjoy two cocktails (on us), music, a fashion show, a silent auction, raffles and so much …